If you have a chance to experience the festivals in the Catalonia region, such as La Mercè and Festa Major De Gracia (Garcia Festival), the Lively atmosphere, and fascinating costumes during the festa are not only things that will be astonished but also the street cuisine, which worth a whole day discovering too every time I attend a festival.
The beautiful aroma from the charcoal grills from sides, that smoky scent, that rich fragrance of BBQ – all of it will make you leave your present position and quickly approach, grab a skewer of juicy, delicious grilled butifarra to enjoy.
This is an extremely interesting experience when visiting Spain and Catalonia or Barcelona I guess. However, if you don't have the time or your busy life leaves you exhausted with no time to travel, Manzanilla will guide you in the most detailed on how to make the authentic Catalan-flavored White Butifarra, with a mild seasoning to naturally highlight the flavor of minced pork.
Ingredients
500g lean pork
250g of dewlap pork
250g bacon (pork belly)
3 eggs
Salt
Pepper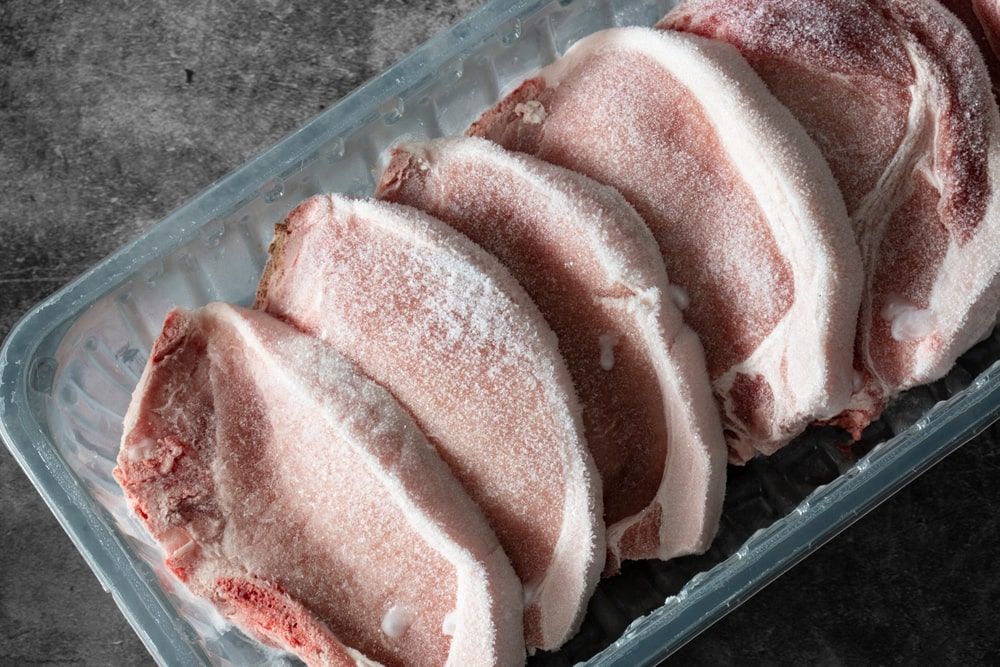 A useful tip for easier and quicker preparation of any sausage is to place the pork pieces, specifically lean meat, dewlap, and bacon, in the freezer for one hour before cooking. This helps the meat, especially the fat part, to firm up, making the prepping process much easier. This method is applied right in our restaurant, we often refer to this method as "mild chilling."
Using dewlap and fresh bacon instead of lean only, as in the original recipe, will make the butifarra sausage juicier and prevent it from over-drying during cooking. Particularly, the use of dewlap (which you may need to pre-order from your "loyalty" butcher, as it is a rare cut not always available in supermarkets or retails) adds elasticity to each bite into the sausage due to the unique pattern of the dewlap.
Instuction on Butifarra Blanca
The focus of Butifarra Blanca is on the meat and its quality, with can not be easier, basic seasoning and there won't be any blood in the ingredient, unlike the Butifarra Negra version.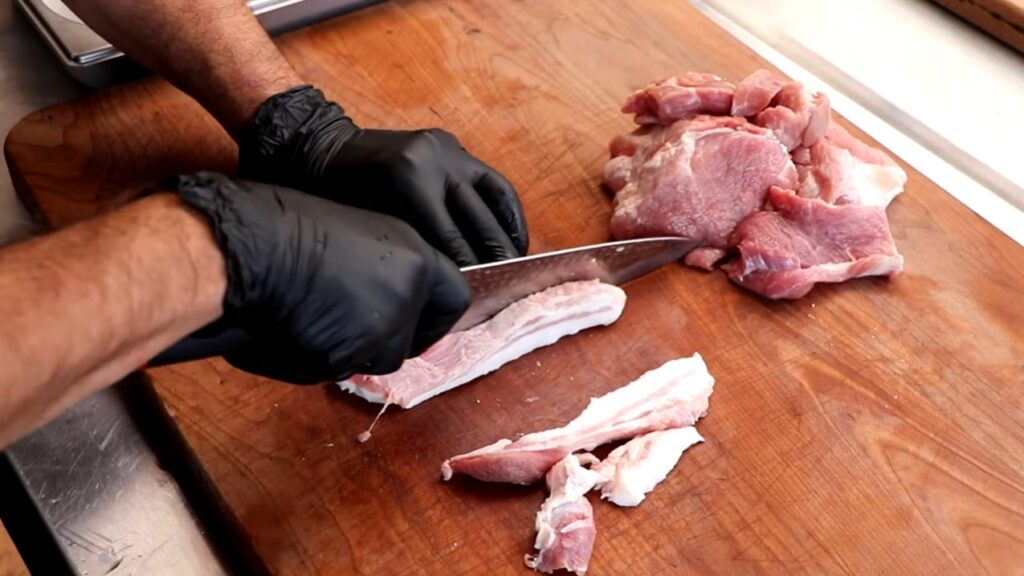 Simple seasoning process as the recipe is, that's why the meat prepping is crucial in this dish. Before grinding the premium pork, dice it into small, evenly pieces, about 1/4 to 1/2 inch would be perfect, I suppose. Perfect dicing is crucial for maintaining a consistent flavor and texture in each bite as a consistent distribution of fat and lean meat contributes to the sausage.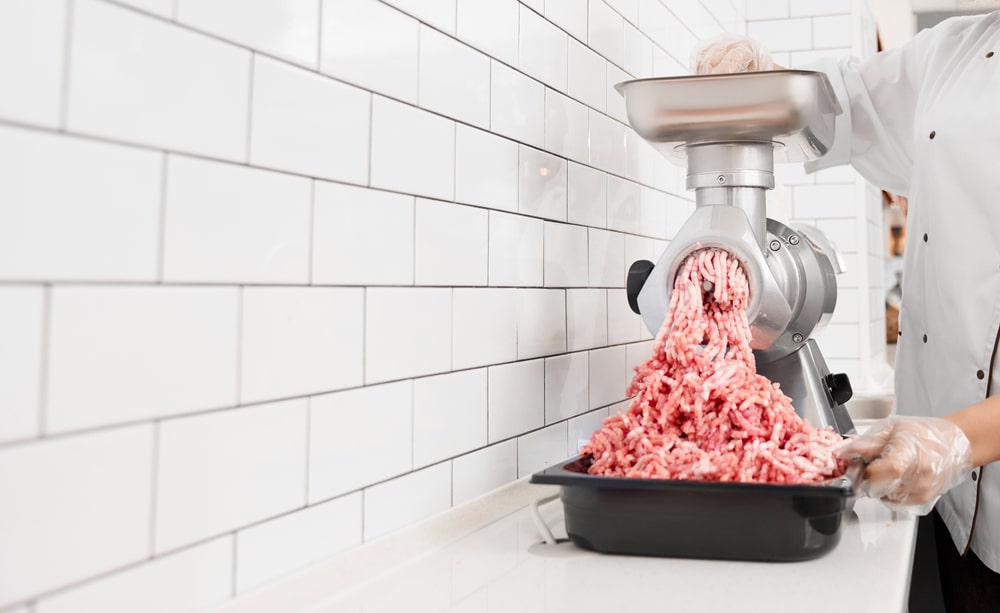 Next thing would be setting up the mincer and feed nicely diced pieces of meat into meat grinder (but keep the diced pieces cold and firm, as normal texture meat may cause the minced mixture to stick to the grinder and put you in a definitely messy situation).
To achieve the highest quality sausage, the minced meat should have the best texture, and that's pretty obvious, isn't it? To ensure the minced meat has the "best" texture, the mincing process must be perfect, and fortunately, this could be easily achieved if you got a high-quality grinder xD. Just run the mincing process twice, or more if you feel it's not textured enough. But for me, two times is sufficient; I want the Butifarra sausage to retain the meat's texture not to smooth.
Now, let's move on to seasoning. What sets Butifarra apart from other sausages like German or chorizo is its surprisingly simple seasoning I must say. But as people say, simple make perfect, salt and pepper only will take the taste of premium grinded pork to the next level for sure.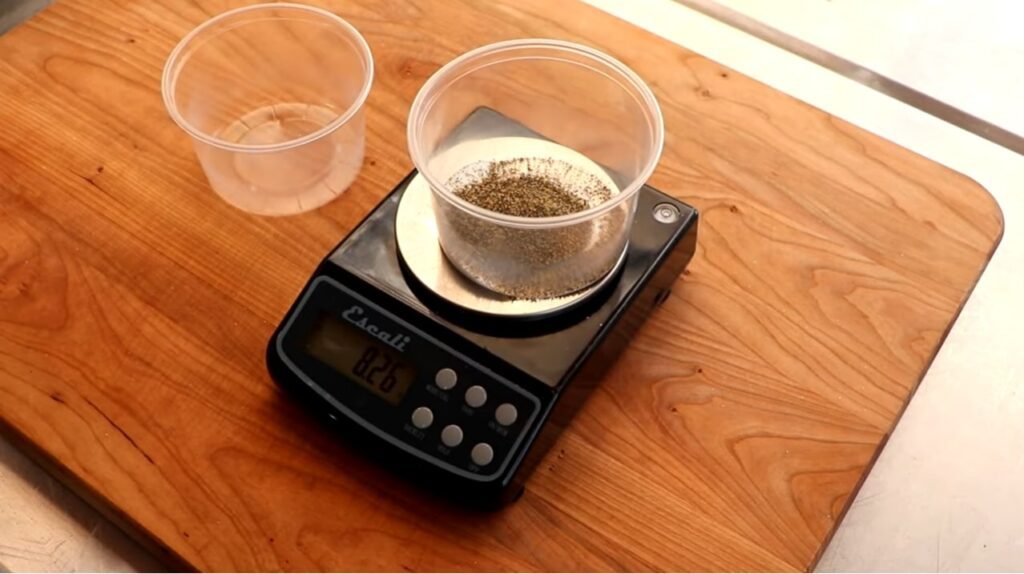 Season the mixture with 2 tbsp of black pepper and 4 tbsp of salt (Feel free to adjust the amount of seasoning to meet your family's taste; I prefer a bit of sweetness in the meat mixture, so I will put 4 tbsp of salt only).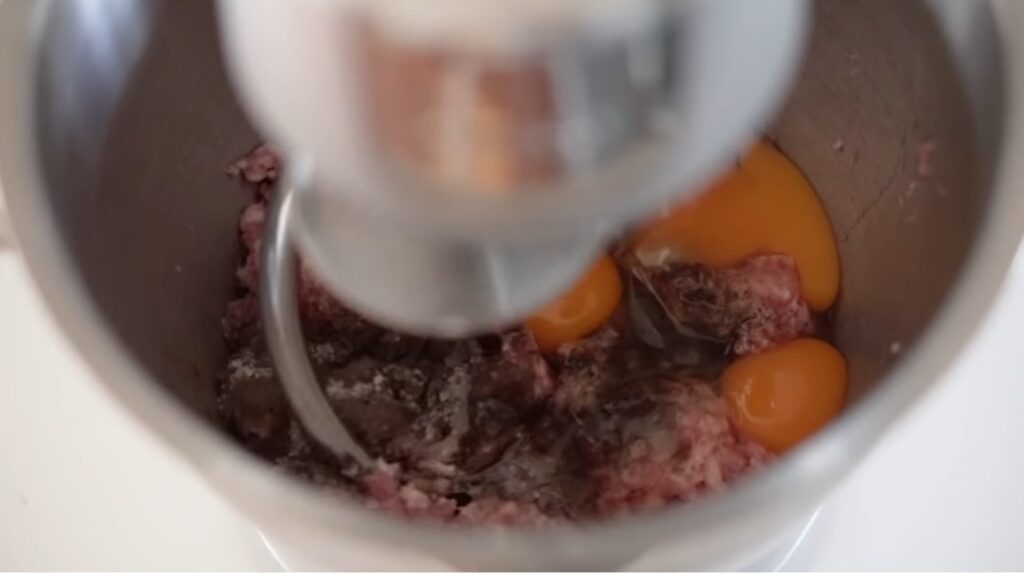 Add 3 eggs to the mixture before mixing the ingredients all together. Adding eggs will firmer texture for the sausage, preventing it from becoming crumbly when serving. In additional, yolk would greatly contribute a greasy taste to Butifarra Blanca
Having seasoned perfectly, adding the eggs, next thing would obviously be mixing all those ingredients evenly. If you're using a 3-in-1 sausage grinder that can grind, mix, and stuff, making any type of sausage, including butifarra particularly, could not be easier.
By using sausage grinder to handle all the stuffs will create a beautiful texture to the sausage, since machine can mix ingredients much more even than handling with your own hands (without any controversy). Besides, It also saves you a lot of time, you dont wanna waste whole sunday morning in the kitchen pulling the ingredients right?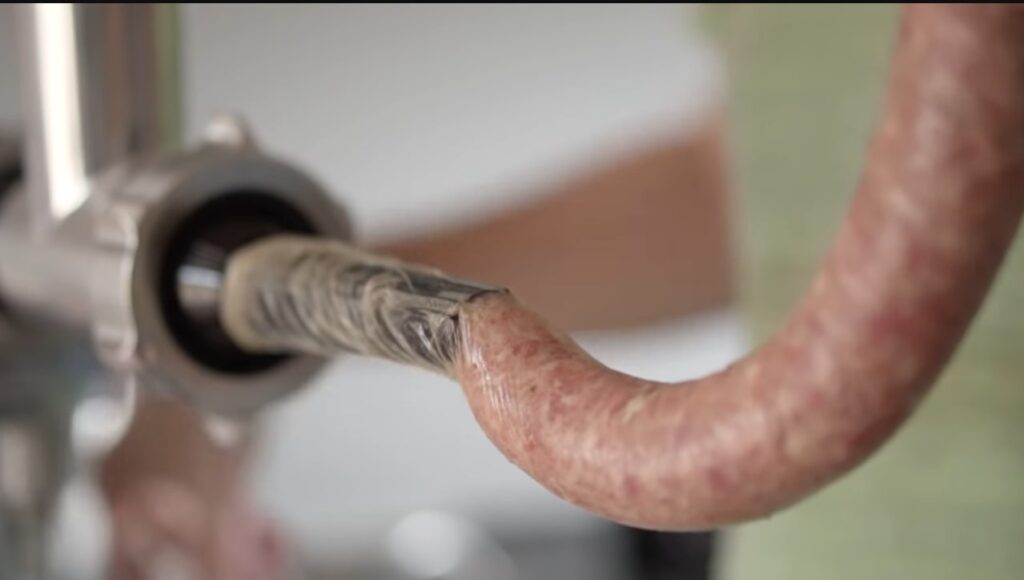 Once the ingredient mixture is perfectly mixed, our last step would be stuffing. Once again, the machine would help you a lot in this situation. However, you can still manually carry out this step by stuffing the mixture inside the casing while open the mouth of the case widely at the same time. Use a long chopstick gently push the minced meat down to the bottom, but keep in mind that take it slow, or else the sausage casing may break, and believe me, it would be such a mess in the kitchen.
With the sausage stuffer then the process would be much easier. Here is an useful tip: Apply a little cooking oil around the filling tube, so the sausage casing will fit very well, and will be easy to insert in the mixture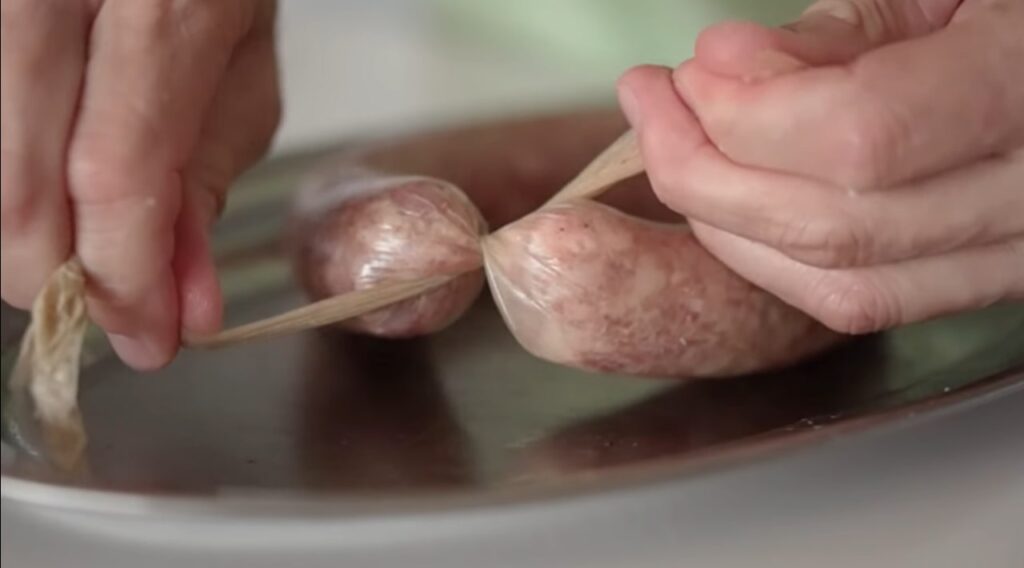 When you have completed filling a sausage, tie both ends, grab a needle, and prick the sausage. This is a simple yet significant step when making any type of sausage not jusst butifarra. Pricking removes all the air from the uncooked sausage, avoiding the risk of bursting, making the sausage cook more evenly, and enhancing the flavor by allowing fats and juices to escape, contributing to a more even distribution of flavors within the sausage.
And there you go, your uncooked butifarra is ready now. You can cook it in various ways, but personally, turn it into tons of tasty dishes. Personally, I am a big fan of pure boiled or fried butifarra. I'll explain why in the next part, stay tuned guys.
Butifarra – When Simplicity Makes Perfect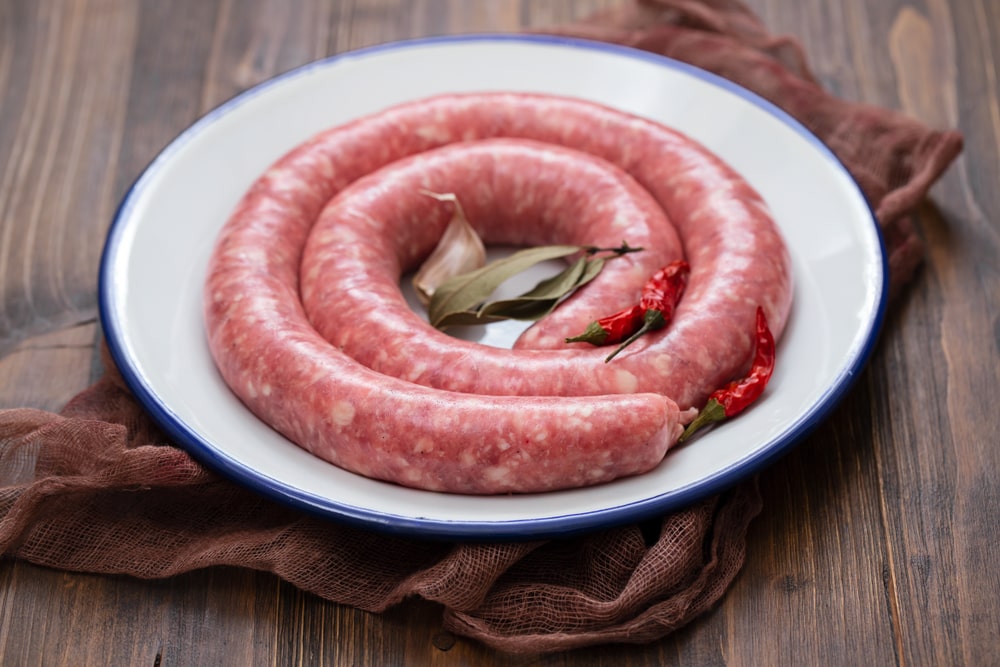 Butifarra is a very basic sausage, I can say that. However, I think It is a foundation (in some way) for complicate seasoned sausages later on, such as sweet chorizo or Longaniza,…
Besides the white butifarra version I shared in this post, there is another type that carries a strong regional flavor, known as Butifarra Negra (black butifarra), which includes blood as an ingredient, which would make the sausage a little bit saltier and greasier than blanca version
An interesting fact is that Butifarra has reflected a very distinct, unique taste of all Catalan. As you may have seen from the recipe, it can be said that the locals here are extremely gourmets when considering other ingredients to marinate Butifarra beside salt and black pepper, might make the sausage lose its essence from premium miced pork.
So when I say, personally, I prefer the two most basic cooking styles: boiling or frying like famous Catalan Sausage And Beans dish, partly because I want to show respect to Catalan culinary culture. I want to experience the whole quality and taste of the meat rather than a stew or anything else like that. And after having finished the dish a beautiful salad like melon can jamon to balance out the taste would be perfect.
Catalan is an extreme treasure, I must say. There are so much more interesting about culinary culture here, and Manzanilla still got some interesting recipes from this beautiful region for you to discover:
Homemade Catalan Butifarra Blanca Sausage
This Catalan sausage highlight taste of premium pork, seasoned minimally with salt and pepper to let the meat's flavor shine. The most simple, basic sausage showcasing quality ingredients.
Equipment
Meat Grinder

3-in-1 Sausage Stuffer

Needle
Ingredients
500

g

lean pork

250

g

of dewlap pork

250

g

bacon

3

eggs

4

tbsp

salt

2

tbsp

pepper
Instructions
Dice pork into 1/4 – 1/2 inch pieces and chill for 1 hour.

Grind chilled pork through meat grinder twice for texture.

Season ground pork with salt, pepper.

Add 3 eggs to seasoned mixture.

Mix all seasoned ingredients thoroughly.

Stuff seasoned pork mixture into casings using sausage stuffer.

Tie off ends of stuffed sausages and prick all over with a needle.

Cook sausages by boiling, frying, or other preferred method.
Notes
Use a mix of lean pork, dewlap, and bacon for juicy texture and fat distribution.

Chill meat before grinding to keep fat firm and prevent sticking.

Grind meat twice (or more if needed) for consistent, coarse texture.

Use a sausage stuffer for even filling and smooth shape.

Keep seasoning simple to let pork flavor shine.