If you have a chance to visit the beautiful city of Barcelona in the Catalonia region, exploring the timeless masterpieces of the brilliant architect and designer Antoni Gaudi or the stunning Mediterranean beaches here, make sure that you don't miss the culinary experience of Catalan cuisine. Especially, Catalan sausage and beans tapas dish in this region.
Catalan sausage and beans, a dish as simple as it gets, sipping that with a glass of red wine, will undoubtedly be an unforgettable experience for you in Barcelona.
The highlight of the dish lies in Butifarra sausages carrying a unique prominent pork flavor. Catalan cuisine keeps it minimal with seasoning within the sausage itself, using only salt, pepper, nutmeg, and cumin, allowing the natural taste of the pork to shine through.
Ingredients
500gr white beans (soak overnight for 12 hours)
Onions
Bay leaf
2 large butifarra
200gr pork belly
3 cloves of garlic
Olive oil
Fresh Parsley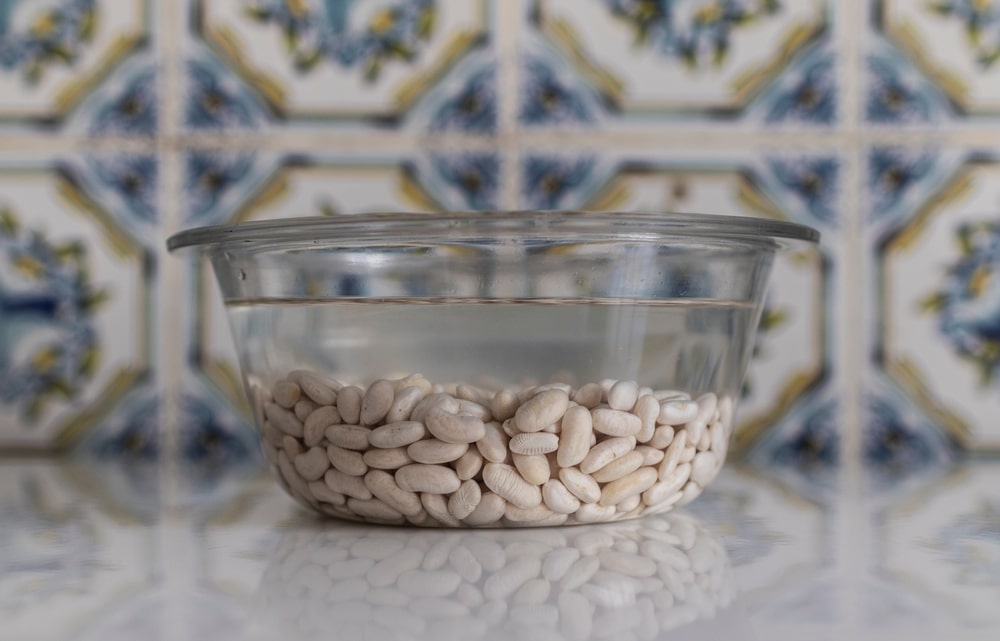 Like most stews or dishes involving peas or beans, it is recommended to soak overnight. In my personal experience with many years in the kitchen, this step is something like compulsory for 80% of dishes related to beans.
Soaking overnight enhances the texture of the beans, making them softer and their pattern seems to be put in order I call it. This is crucial in the cooking process, ensuring that beans are cooked evenly and tend to be softer, without breaking or becoming mushy during frying. This method can be seen in many Spanish dishes like: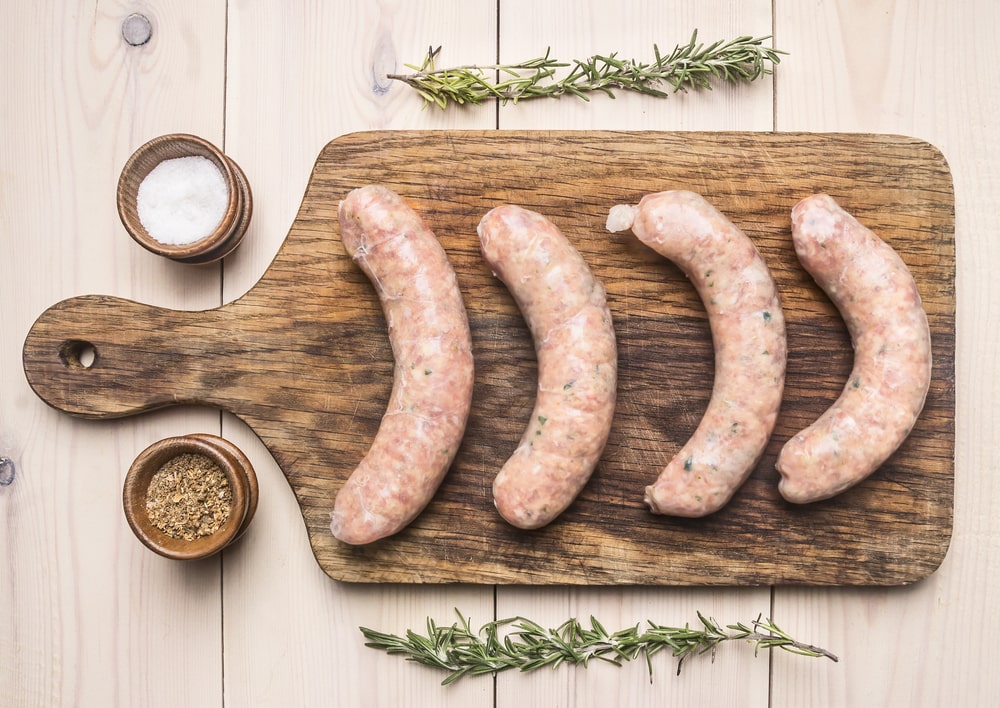 If Butifarra is not available in your kitchen, British sausage is also a pretty good alternative. British sausage is not heavily seasoned, has a mild smoky flavor, and, of course, pork is the main flavor, similar to Butifarra in some aspects.
Step-by-step Catalan Sausage and Beans Instruction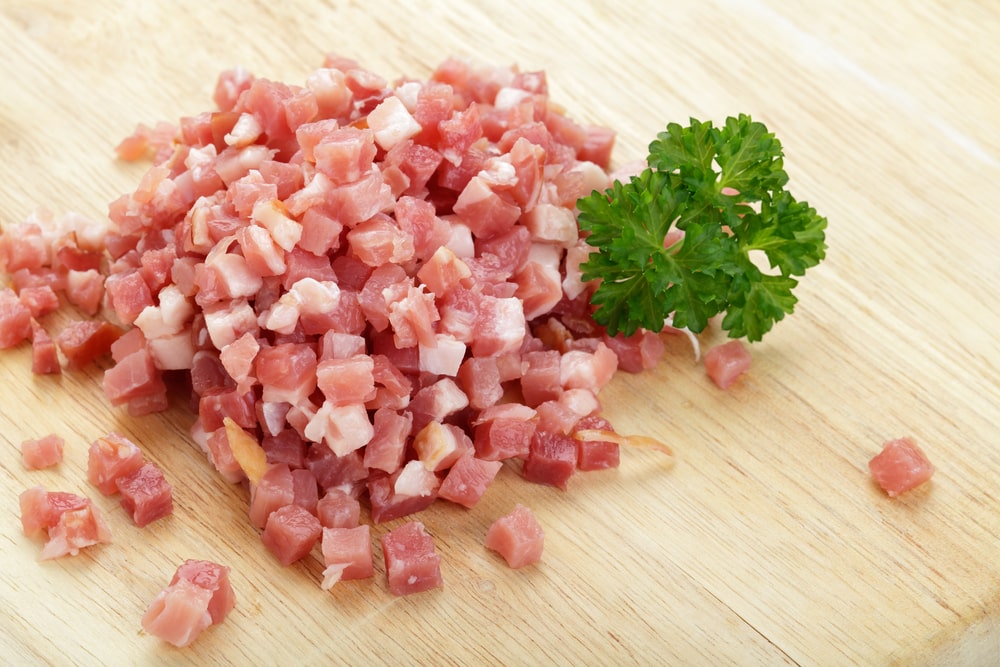 For the bacon, we'll dice it into small pieces to create crispy pork greaves to enjoy with white beans. As for the parsley and garlic, I'll mince them to ensure that the aroma is amplified to the maximum when fry.
You've got a pile of plump and creamy white beans ready, right? Let's start with those white beans.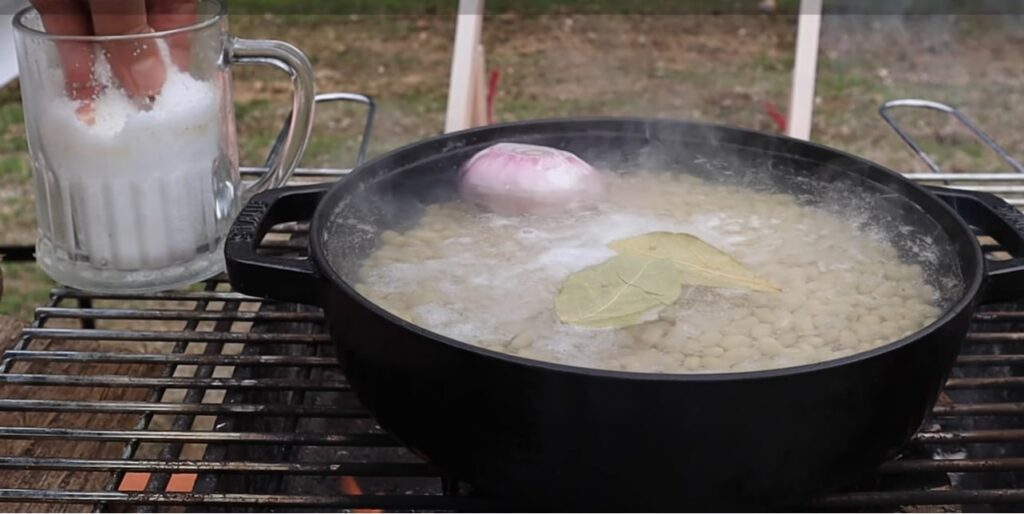 Quickly rinse the white beans once and then simmer them in boiling water with bay leaf and onion until they are cooked. Simmering with bay leaf will give a light scent, and earthy aroma to the boiled beans, balancing out the richness of the fried sausages. It will take around 50 minutes to perfectly cook the white beans.
Besides, there is an interesting fact that the aroma of bay leaf can be seen as a signature ingredient in almost Catalan dishes, and Catalan sausage and bean dishes in particular.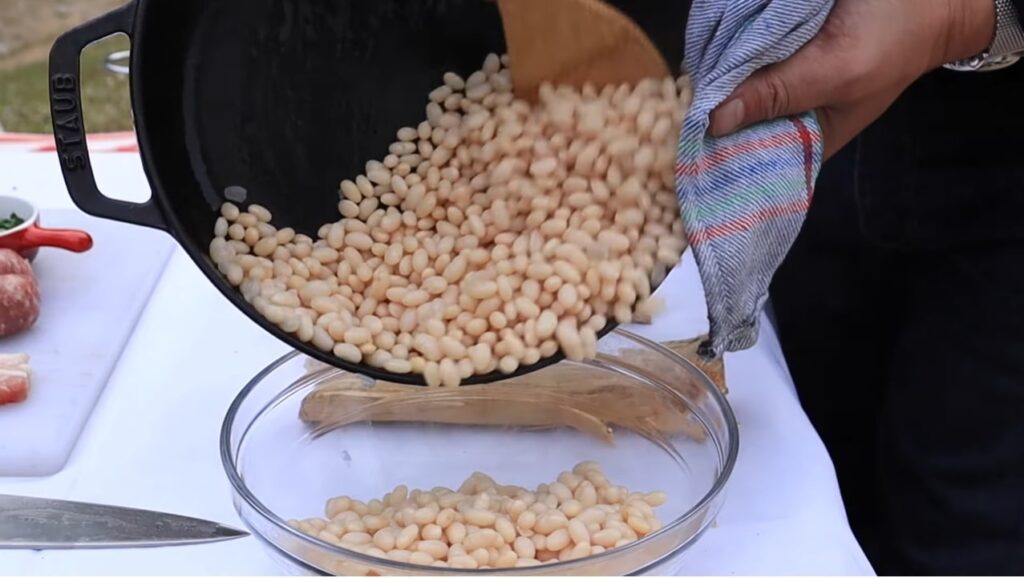 Once you've finished simmering the white beans for 50 minutes, strain out all the water and place the white beans in a separate container. Here, I'll use a large strainer set over a glass bowl. Completely draining the water after boiling the white beans will significantly impact the later frying process, as it will definitely help you get rid of all the mess during frying and the risk of oil splatter, preventing unwanted injuries to your hands.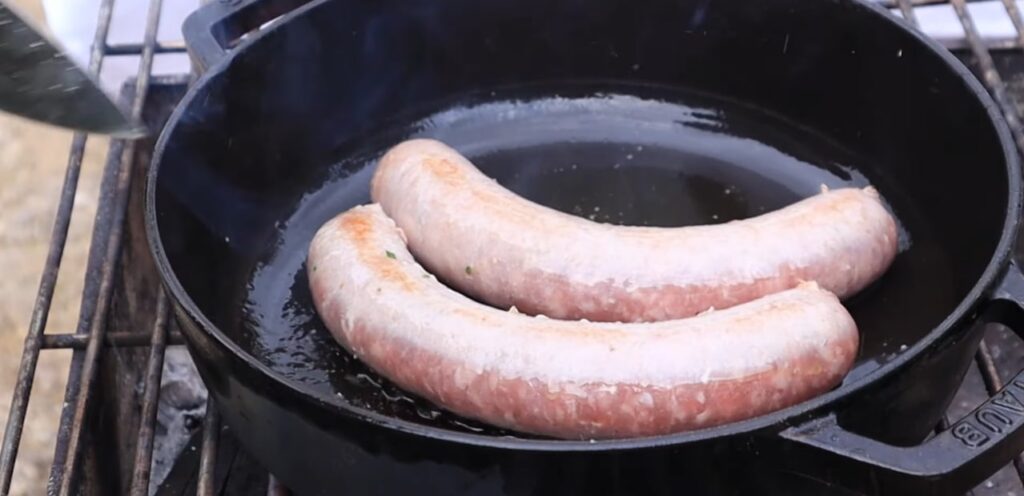 Next, heat the olive oil for about 1 minute before frying the sausage and white beans. Besides bay leaf, in case you don't know, in Spain, we use olive oil more frequently than normal frying oil or pork fat. Using extra virgin olive oil also has positive effects on our health as well, and above all, it maintains the cultural beauty of Catalonia's culinary tradition.
Once the oil is hot (you should see tiny tiny bubbles on the surface), it's time to add the main ingredient of the Catalan sausage or butifarra as natives call.
Sear sides of the sausage until they have a light brown color. It's best to sear one side at a time rather than stir the sausage evenly by the way; this technique guarantees the sausage retains its juiciness. Moreover, since it's butifarra-style sausage, the minced pork within the sausage will stand out more than ever.
Put the sausage aside once you've perfectly seared them.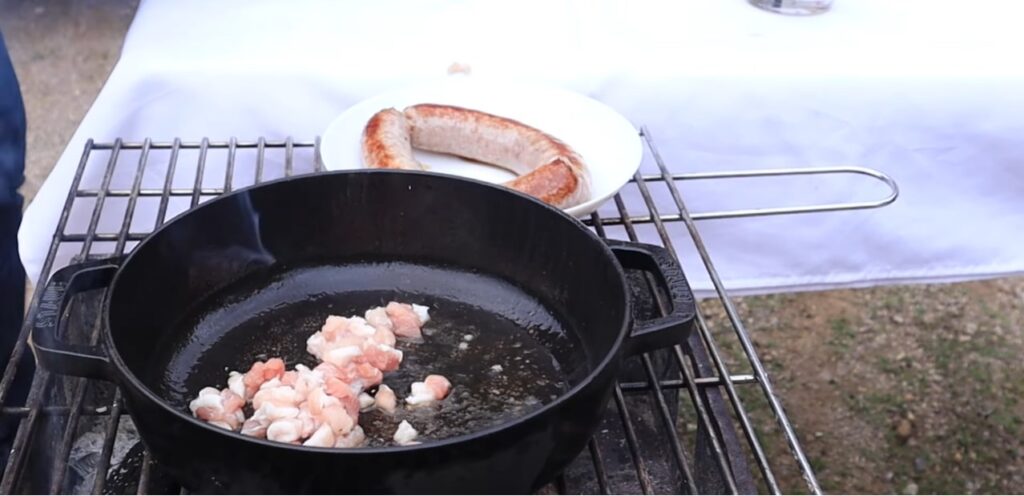 Next up is the prepared bacon. The reason I don't fry the bacon before the sausage is that I don't want the butifarras to be too oily, especially since it's pork belly, frying would release a lot of fat. But, remember to make full use of the olive oil used to fry sausages, which now has a bit of a salty and peppery flavor from the sausage.
Fry the diced bacon pieces until most of the fat has come out, turning into delicious and fatty pork greaves. Add the prepared minced garlic and stir for about a minute.
When the garlic turns golden and carries such a beautiful smell, add boiled white beans and finely chopped parsley. As you can see, frying at this point becomes quite easy, with no mess at all since the beans have completely drained out. And one small note, because the white beans have been pre-boiled and parsley cooks very quickly (and loses its beautiful scent easily when overcooked), make sure to stir them ingredients quickly and not let it sit for more than 20 seconds
I call this step reheating the beans rather than frying them, actually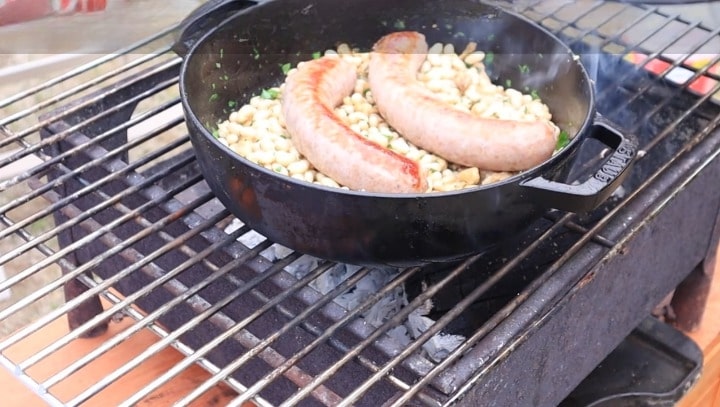 The final step is just to add the sausage again, stir for about 20 seconds to reheat the sausage, and allow the flavors to blend together.
Serving catalan sausage and beans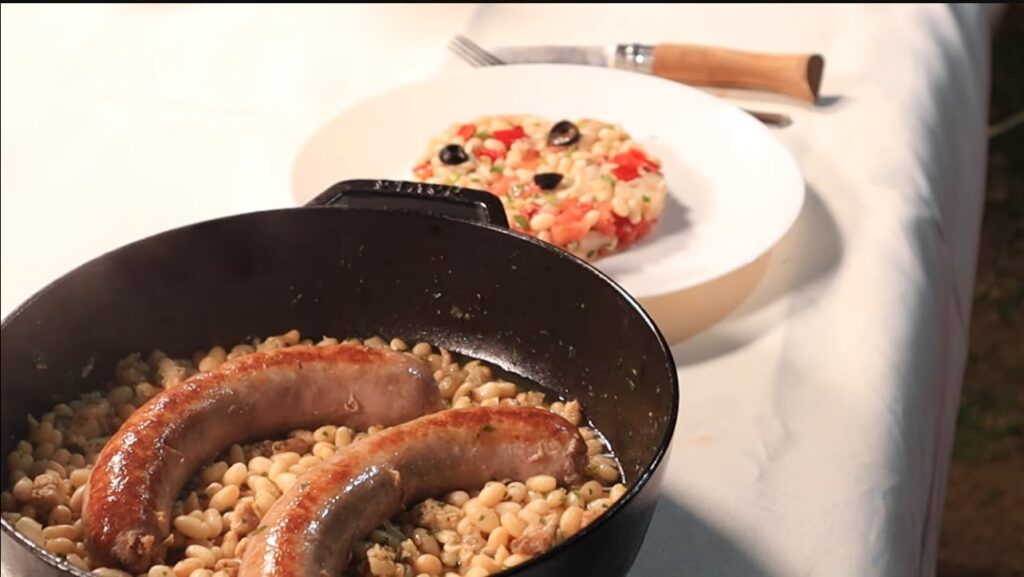 The dish can be enjoyed as a light tapas dish. The Catalan sausage dish is kind of greasy due to the fat from pork belly and the distinctive taste of butifarra sausage, a type of sausage where the meat flavor is predominant. For the best experience, you might want to enjoy it with a salad tapas like Melon con Jamon or serve yourself with a glass of red wine to balance your taste.
Simple as the dish is, yet it carries the distinct flavors of Catalonia. So, make sure not to miss this beautiful gift if you have the chance to visit this region or Barcelona specifically. You won't be disappointed for sure!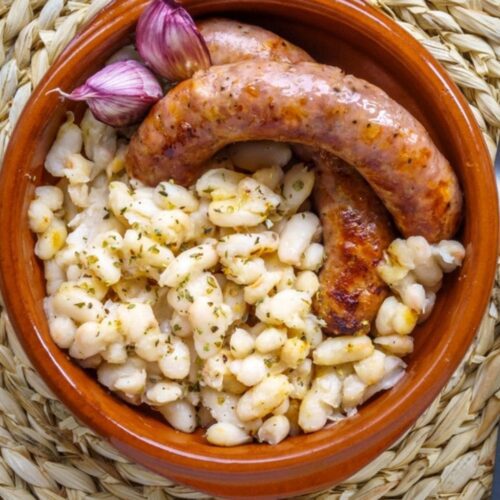 Catalan Sausage and Beans
Catalan sausage and beans is a simple dish where soft, white beans are fried with meaty butifarra sausage, and crispy greaves, creating a typical dish of Catalonia.
Equipment
Large pot

Strainer

Frying pan

Wooden spoon

Knife

Cutting board 

Basic Kitchen Stuffs

Tong for turning sausages while frying
Ingredients
500

gr

white beans

soak overnight for 12 hours

Onions

Bay leaf

2

large butifarra

or British sausages for alternative

200

gr

pork belly

3

cloves

of garlic

Olive oil

Fresh Parsley
Instructions
Soak the beans overnight for 12 hours to soften the bean

Drain the soaked beans, place in boiling water, and add bay leaf and onion.

Bring to a boil then simmer for 50 minutes until beans are cooked through.

Drain the beans in a strainer and set aside in a bowl. Discard bay leaf and onion.

Heat olive oil in a skillet over medium heat for 30s.

Add sausage and fry until browned on both sides. Remove and set aside.

Add diced bacon to the skillet and fry until it turns into greaves. Add minced garlic and fry briefly until fragrant.

Add drained boiled beans and chopped parsley to the frying pan.

Stir together, then add back the sausages. Stir gently to reheat everything together for 20 seconds
Notes
Soaking the beans overnight in ample water is crucial for evenly cooked, tender beans.

Draining the boiled beans completely removes excess moisture for better frying/reheating later.
Take time to brown the sausages well on both sides to maintain their juicy, porky flavor. Don't rush this step.
A glass of Spanish red wine balances the richness of the dish nicely.