A really popular tapas that appears in most of bar and restaurant of Spain: Garbanzo Frito. This is a Spanish tapas dish made with chickpeas fried in a sauce of onion, garlic, chorizo, ham, bacon, tomato, and paprika. The combination of ingredients like bacon, chorizo, and ham give it a distinctive smoky and salty flavor which is a truly signature favor of my beautiful Spain.
Ingridients
1 lb of chickpeas
1 medium onion
1/2 lemon
Back pepper
Olive oil
1/4 cup of tomato sauce
4 cloves of garlic
Fresh parsley
Salt
10oz of ham
2 Spanish chorizo
10 oz of bacon
Paprika
Before we strike making a beautiful Garbanzo Frito dish, there is some personal notes on this recipe that I would recommend for better experience.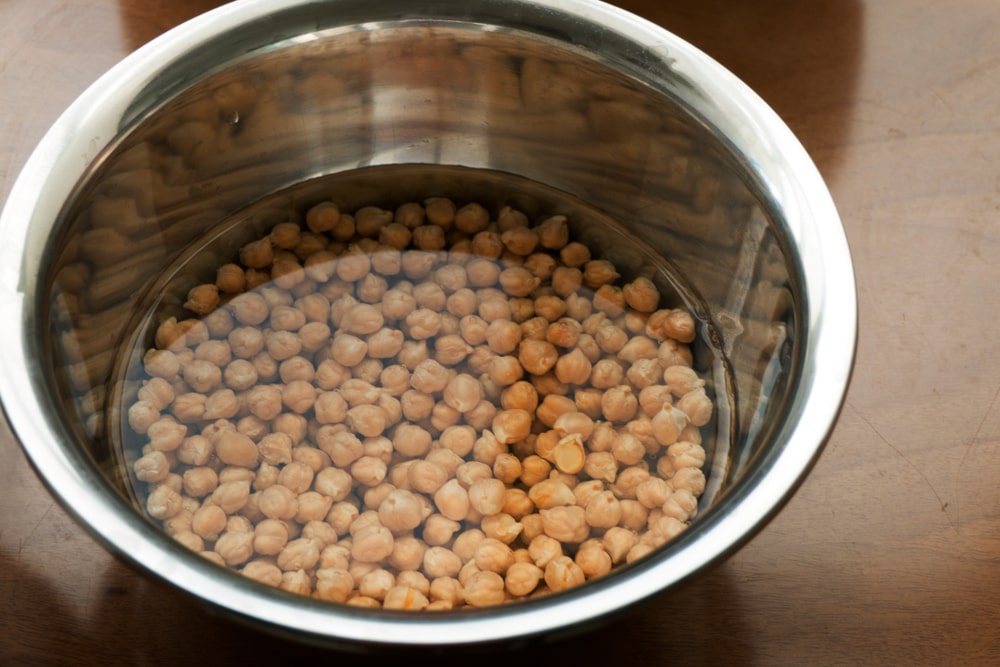 In order to Garbanzos Fritos carry the signature Spanish vibe and a touch of vibrancy at the same time, I highly recommend let chickpeas soak overnight before heading to cooking stuffs. This method can be seen in many other Spanish tapas like: Olla Gitana, Catalan Sausage And Beans, Titaina,…etc
And, like in every post of recipes I shared on the Manzanillanyc, it's essential to prep all your ingredients and lay them out in separate containers say dishes, bowl or whatever you use as long as it is clean tho. This is super handy when you dive into cooking. You won't mess up everything, plus, all your prepped ingredients are right in front of you whenever you need them, how comfortable it is, right?
Step-by-step Garbanzo Frito Instruction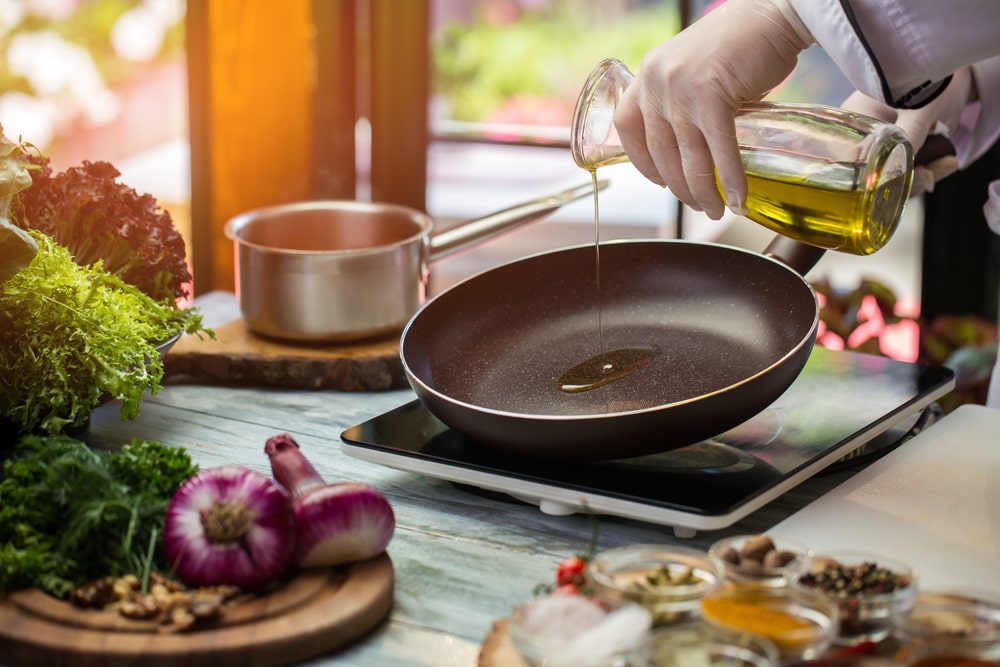 First thing first would be heating up olive oil on pan for about 30 seconds. This move ensures that when you fry ingredients, there won't be any oil splatter causing injuries or messing up your kitchen.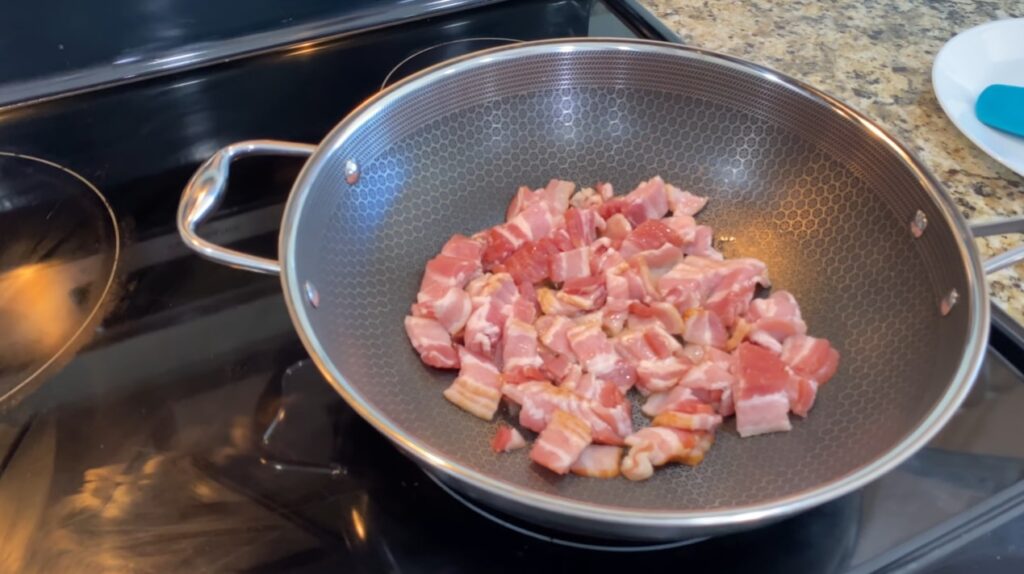 Having explored tons of Garbanzos Fritos recipes out there start by frying chickpeas first, but I'm not going that route. Personally, I'd go for frying bacon first. I want to highlight that smoky aroma and the fat and a little bit of salty from bacon in this tapas dish.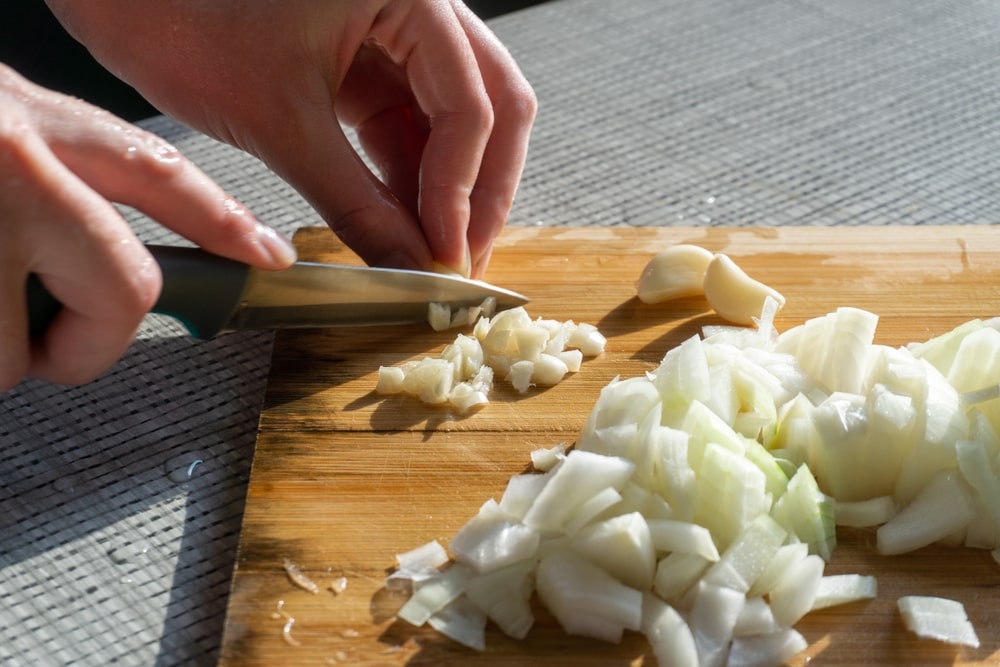 Next up is the onions and garlic, signature flavors in most Spanish dishes. Chop them into dice shapes for the onions and finely mince the garlic. Personally, I recommend you guys dicing aromatic ingredients like onions and garlic into small pieces because they would amplify the aroma of whole dish to the max, especially when sautéing garlic.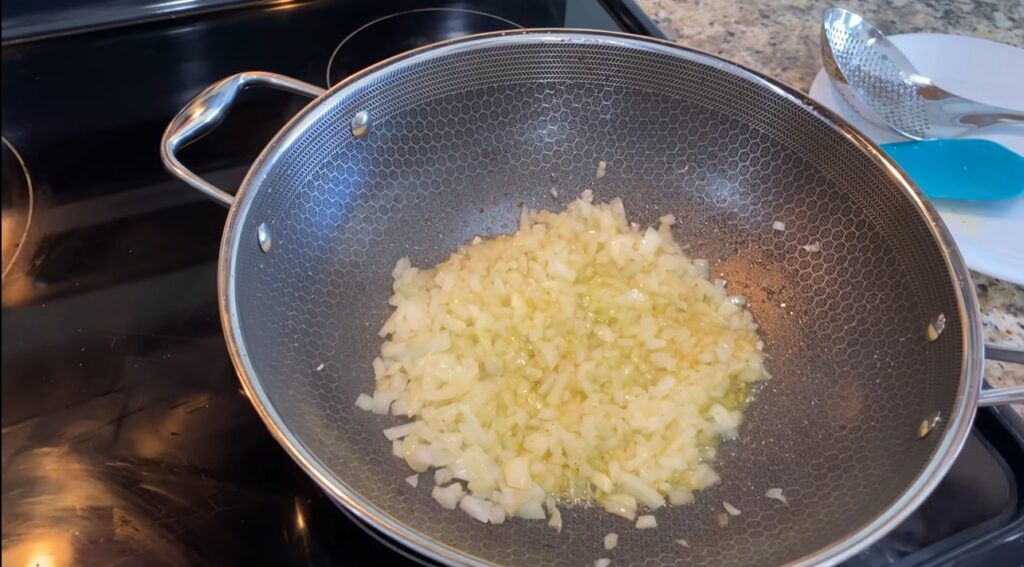 Thinly sliced bacon cooks up real quick and can easily burn if you're not stirring them well. After about 2-3 minutes of frying, you'll see that lovely bacon fat has started coming out. Those bacon fat is definitely a treasure to every cooker, can you feel the smoky and salty of it? Use that yummy fat one for onion and garlic. Sprinkle in a pinch of salt to balance out the sweetness of the onions while they cook.
As for the bacon, once it's crispy and golden, set it aside on a separate plate for later use. Remember, don't mix it back into the mixture of onion and garlic now on the pan; crispy bacon is meant to be a highlight in this tapas dish, not burnt one obviously.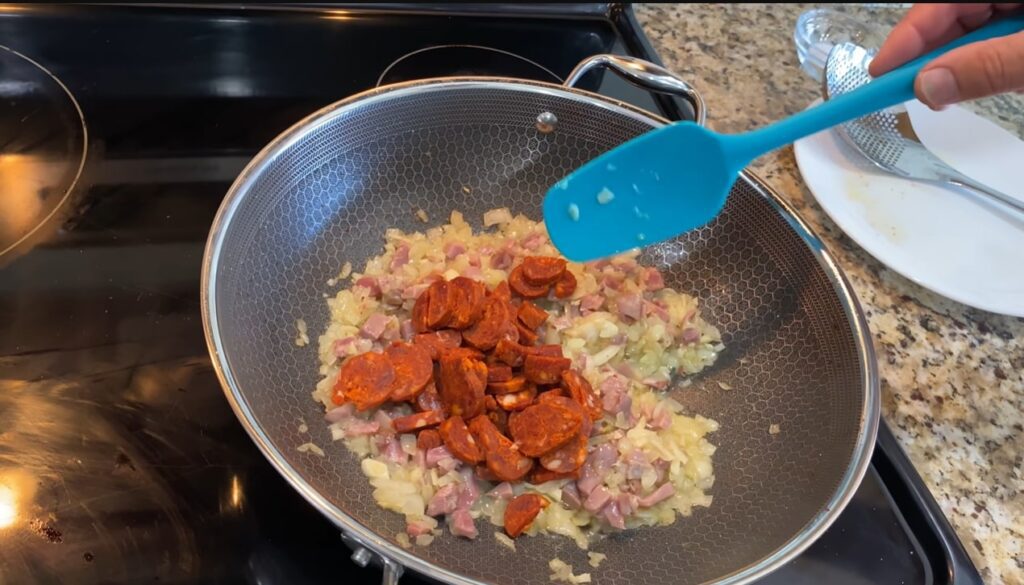 Stir it up, making sure the salt is well-soaked into the mix, then the next step would be for chorizo and chopped ham we have handled earlier. The presence of all three main ingredients – ham, chorizo, and bacon – gives the dish that incredibly distinctive smoky aroma characteristic of Spanish tapas like Carcamusas. It is this smoky flavor that often makes these dishes perfect for tapas rather than a main dish (Personel though guys) — they're just right for sipping with a glass of top-notch wine, or a cold beer watching a game.
Looking for a tapas to serve with cold beer. I got a really nice crunchy fried dish for you to sip: San Jacabo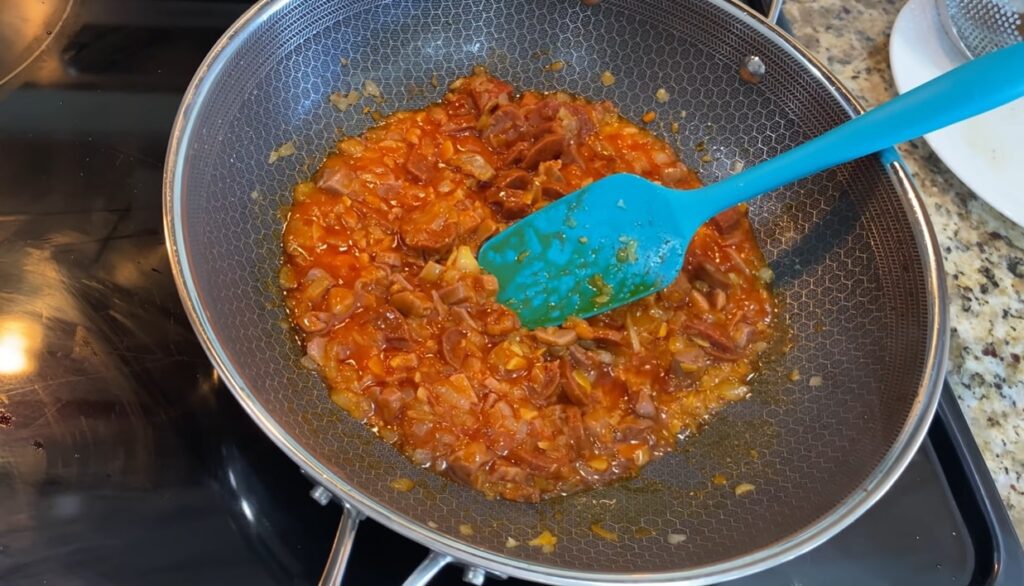 Now, the fats released from the ham and chorizo will give the mixtureon that pan a wonderfully appetizing brown-yellow color promising beer-consuming dish. Once the mixture has released its fat and starts to show those simmering bubbles, it's time to add the prepared paprika and tomato sauce.
For an advanced but fresh experience for the dish at the same time, I highly recommend using crushed tomatoes; this will bring a much fresher vibe to the dish. Of course, there would be a little restrict here with crushed tomatoes, you might need to adjust the seasoning a bit. Add some sugar and a splash of salt until it hits the right flavor of tomato sauce. In addition, a small bowl of cornstarch mixed with water, this mixture helps thicken the crushed tomato mixture, mimicking the consistency of tomato sauce.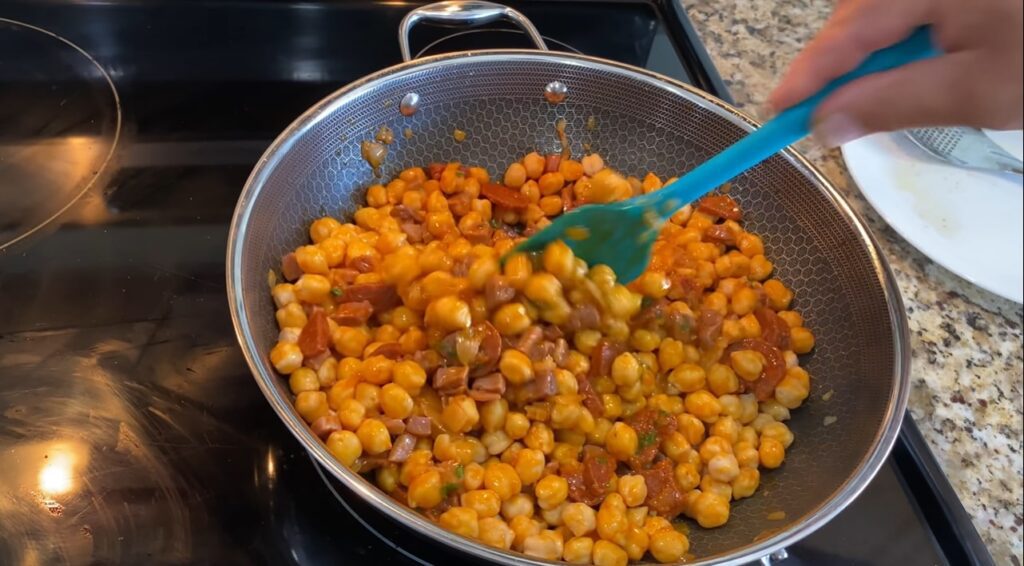 As for the main ingredients of Garbanzo Frito, the chickpeas. Mixing with the sauce the amount that suits your family's appetite. Here, I'm using 1 pound that's been soaked overnight (12 hours) and give it a well stir.
Oops, I almost forgot the parsley. Mix that freshly green with the chickpeas. The fresh green pattern from the parsley will elevate the dish's aesthetics and help balance out the flavors, especially with ingredients like bacon and ham which is a little bit fat without any herb in the cuisine.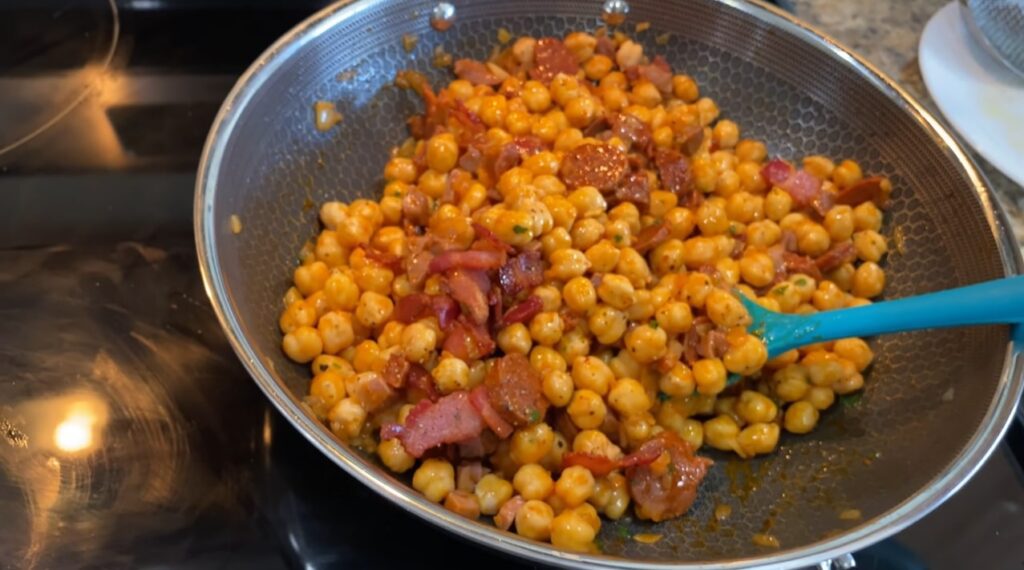 Stir the pan evenly to ensure the sauce seeps into every chickpea, creating the best quality dish. Once the chickpeas have absorbed the sauce, and almost dried up the initial liquid from tomato sauce, seasoning the dish with black pepper and the adding previous crispy bacon. Give it a quick stir for about 30 seconds only.
Finally, the lemon. Lemon will burst in your mouth because this dish has both spicy and sweet flavor. Adding these two contrasting flavors makes it incredibly dynamic.This is just optional; if you prefer the original taste and a slightly sweeter taste like me, you can skip it. It's best to leave a lemon half on the side after serving, for those who want to experience a burst of flavors, they just have to squeeze it in.
And voila, the Garbanzo Frito is done! Before serving, give it a taste test a couple of times and season it to suit your flavor. Enjoy!
Garbanzos Fristos Original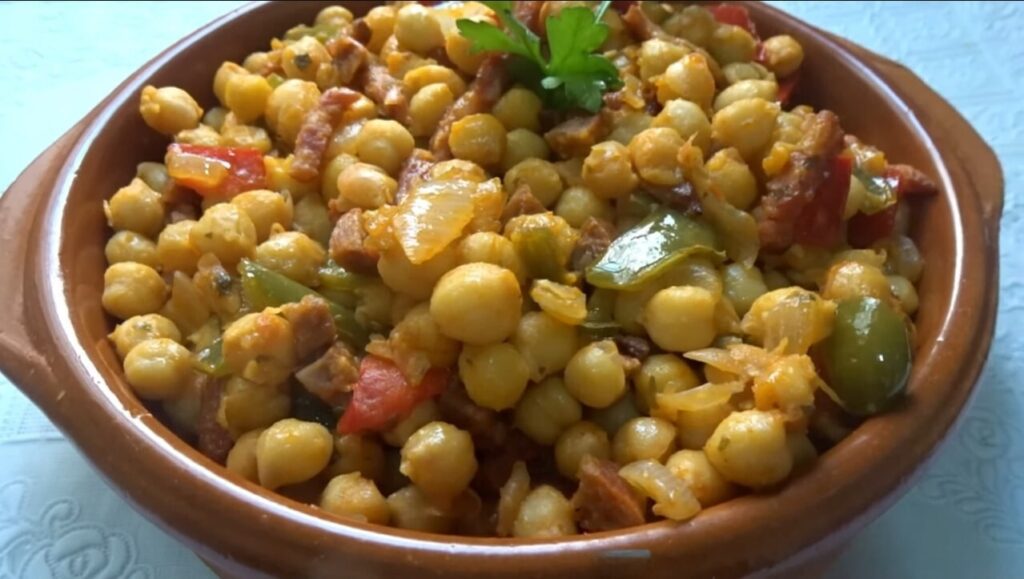 This is a tapas dish you can find almost anywhere in Spain, you would catch it on any restaurant and bar menus throughout the country.
Unlike the dishes I've shared on the restaurant's website, the origin of Garbanzos Fritos is not precisely determined. What we do know is that chickpeas are an incredibly common ingredient, widely used in many tapas dishes in our beautiful Spain. Part of its popularity comes from their crispiness, which adds a delightful crunch, and the buttery taste that pairs well with a cup of red wine actually.
There's another famous version of Garbanzos Fritos, known as Garbanzo Frito Cubano from the country of Cuba. The main difference I must say lies in the fact that the Spanish edition uses paprika and the smoky chorizo to create tapas which contributing to a stunning Garbanzos Fristos dish enjoyed with alcoholic beverages at bars.
On the other hand, the Cuban version include of oregano and cumin, reflecting the influence of Latin American flavors. In general, each version has its unique charm, but the overall of the dish still remains chickpeas soaked in sauce, typically served as a side dish or tapas. If you're a fan of the distinctive flavors of Spain, you might want to try Manzanilla's recipe!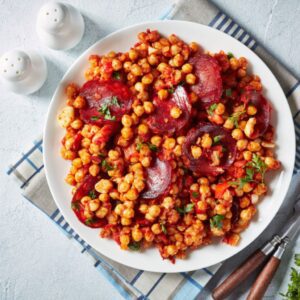 Spanish Garbanzo Frito Recipe
Garbanzos Fritos is a crispy Spanish tapas dish where chickpeas soak up a smoky, salty sauce of bacon, chorizo, ham, onions, garlic, tomato, and paprik making it perfect to have with red wine or cold beer.
Equipment
Pan

Bowls

Knife

Cutting board 

Wooden spoon

Measuring Cup

Basic Kitchen Stuffs
Ingredients
1

lb

of chickpeas

1/2

onion

1/2

lemon

Back pepper

Olive oil

1/4

cup

of tomato sauce

crushed tomato is great for alternative too

4

cloves

of garlic

Fresh parsley

Salt

10

oz

of ham

2

Spanish chorizo

10

oz

of bacon

Paprika
Instructions
Soak 1 pound of dried chickpeas in water overnight for at least 12 hours (This will soften the chickpeas)

Dice the onion and mince the garlic. Roughly chop the parsley.

Slice 10oz bacon, 2 Spanish chorizos, and ham into small thin pieces.

Heat olive oil in a large skillet over medium heat for 30 seconds.

Add the sliced bacon and fry for 2-3 minutes until crispy. Remove and set aside on separate dish.

Add the chopped onion and garlic to the bacon fat in the pan. Season with a pinch of salt. Sauté for 1 minute.

Add the sliced ham and chorizo.

Cook the mixture for 2-3 minutes until browned.

Stir in tomato sauce or mixture of crushed tomato and 1 teaspoon paprika. Cook for 2 minutes.

Drain the soaked chickpeas and add to the skillet. Stir to coat in the sauce.

Season with salt, pepper, and a squeeze of lemon juice.

Garnish with crispy bacon.
Notes
Soak chickpeas overnight for best results

Cook bacon first and remove to avoid burning

Don't overcook chickpeas or they will become mushy

Can adjust amount of bacon/chorizo for less saltiness

Can use canned chickpeas to shorten prep time