Hello everyone, it is Dani García here. So sorry for having disappeared for the last two days, got some appointments and busy with my lovely Manzanilla Spanish Brasserie these days. But fortunately, here I am to share some recipes with you to enjoy with your family on the weekends.
Not with the appearance of stew, deep-fried dishes for tapas as usual, today I will bring you a more refreshing and fresh recipe than ever, yet, could not be easier to take steps. It is Melon Con Jamon or "melon and ibérico ham", a really elegant dish with the sweetness of melon and the signature salty, greasy flavor of jamón ibérico.
Ingredients
Ripe Melon
Serrano ham (jamón ibérico)
Virgin olive oil.
Sesame oil.
Melon Con Jamon Instruction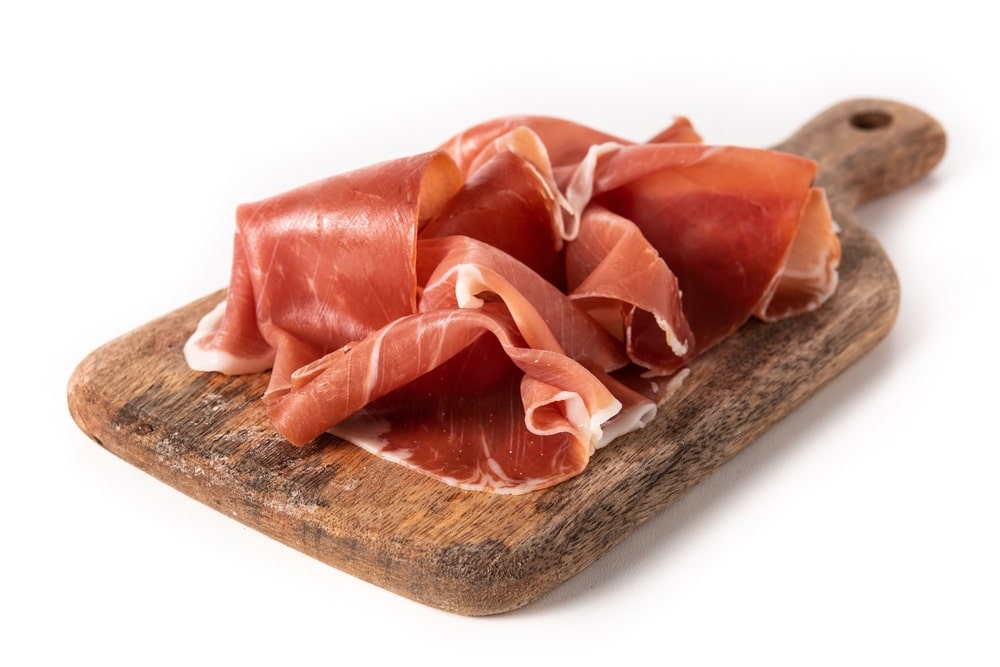 This is a very simple dish, I'm talking about both the ingredients preparing steps here, requires no cooking or any efforts to create the Melon con Jamon dish riching in cultural flavor of Spanish cuisine. As long as you have good quality Serrano Ham, I suppose.
Good quality Serrano Ham here I am talking about types of jamón ibérico classified as green label or above, whether it's green label, red label, or black label, they shall provide the best experience for the melon con jamon dish.
Melon con jamon instructions will mainly focus on presenting the dish as much elegant as tapas plate in Spanish bars or top Spanish restaurants, with each piece of melon con jamon organized into bite-sized portions arranged beautifully on the plate.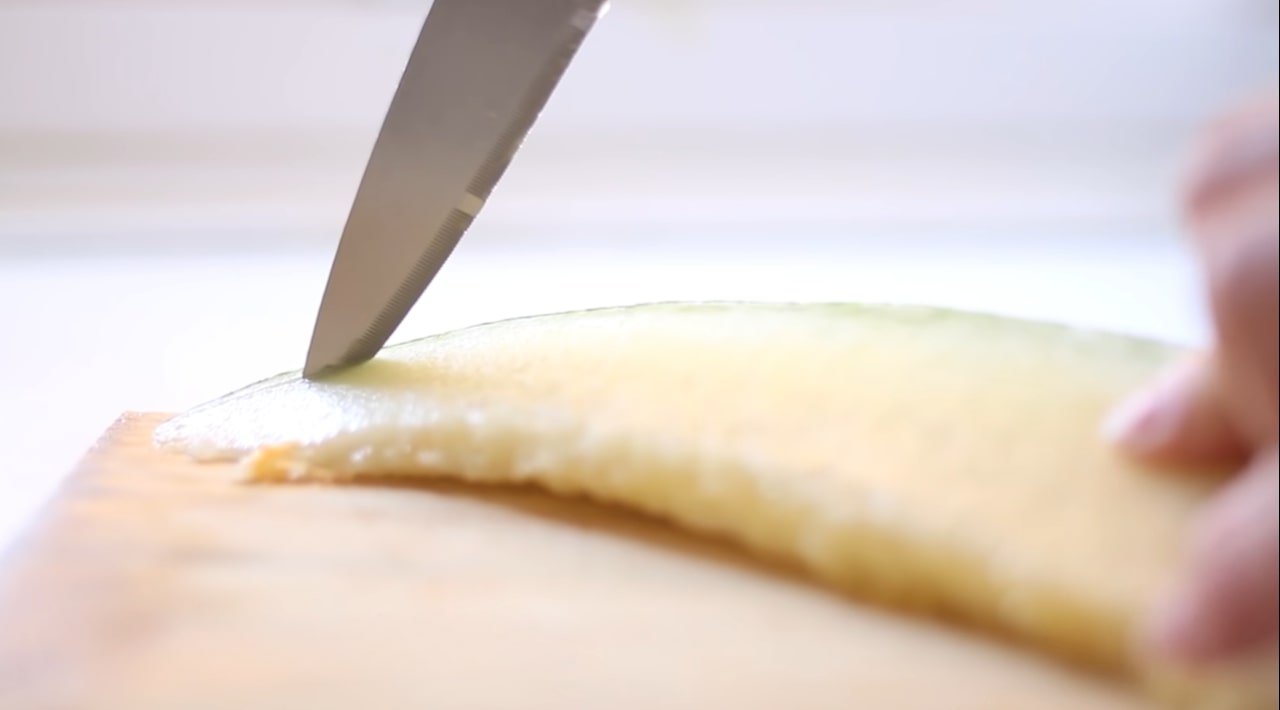 First thing first, cut the melon into thin slices, about 1-2 inches thick only, this guarantee each melon con jamon piece is size bite while leave the dish the fanciest look. To create perfect slices, it's essential to have a sharp knife in your kitchen.
Like I have stated that the instruction of this dish mainly emphasizes the aesthetic of the dish, I will consider this is the most important prepping step. If your knife is not sharp, the melon slices will become very "magled", not to mention the juice that will come out because of repeated movements with a dull knife, which will turn your cooking corner definitely a mess now.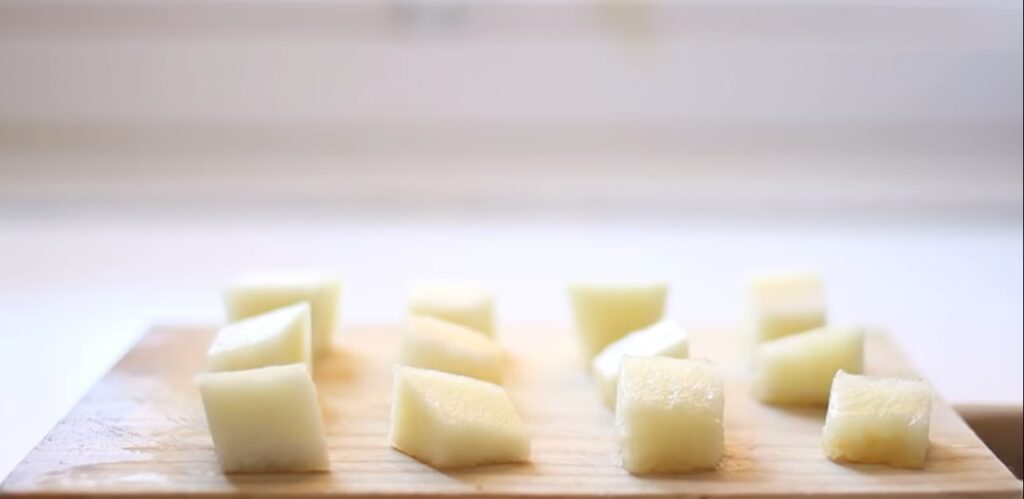 You will need 3 slices like this for a tapas plate, remove the skin and seeds from the melon. Cut each melon slice into small, bite-sized squares.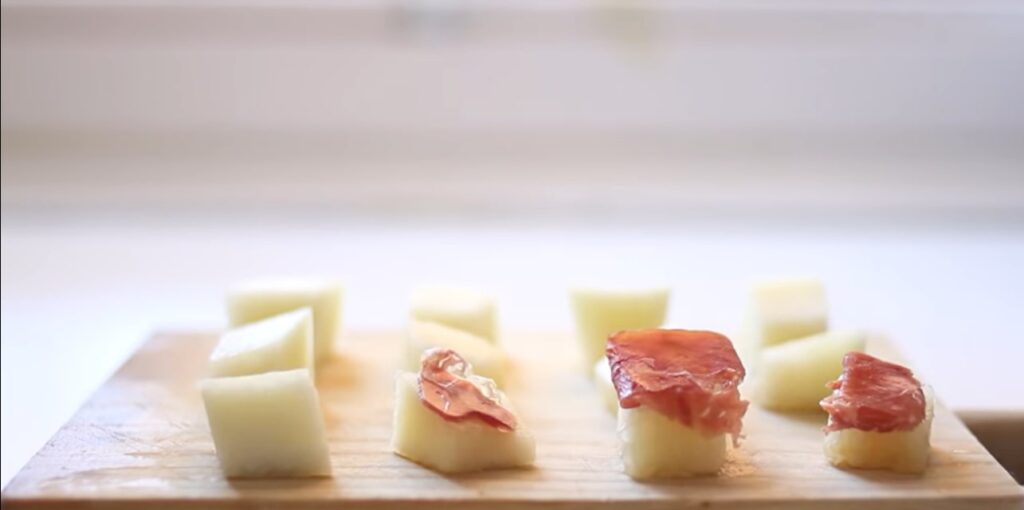 Place on top those thin, perfect slices of serrano ham (don't be too greedy and put more than 2 slices of ham; the characteristic of jamon iberico is intensely flavorful, with a bit of saltiness, and of course, you wouldn't want to distract from that exquisite taste).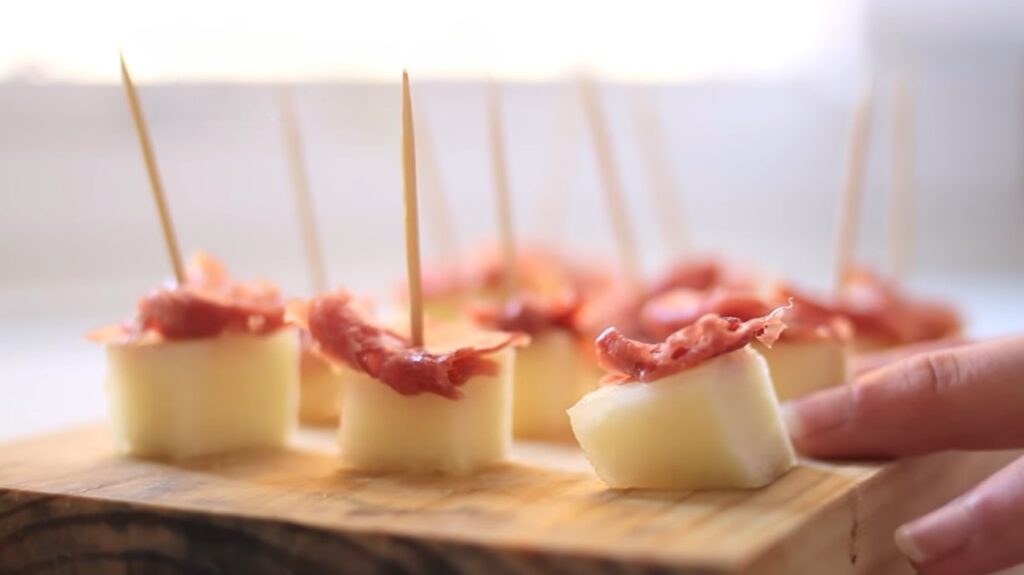 Finally, prick each piece of melon con jamon with a toothpick, just right for one bite. This adds a touch of elegance and delicate to the dish. Give the dish a light drizzling with olive oil and sesame, which greatly contribute to enhancing presentation with fresh finish, while contributing to authentic Spanish cuisine.
The melon con jamon is definitely a refreshing experience, espeacially when you are about to taste creamy stew dish like carcamusas, or deep fry ones. This dish is surprising simple to make, don't hesitate to take time giving it a try, you shall be surprised of the luxurious taste it brings over.
More Tapas To Discover
Melon Con Jamon
The sweetness of ripe melon contrasts beautifully with the salty intensity of Serrano ham in the elegant Melon con Jamon tapas, combining rich cultural flavors of Spain.
Equipment
Sharp knife

(essential for the dish)

Cutting board 

Plates

Toothpicks
Ingredients
Ripe Melon

Serrano ham

Green to Black Labeled

Virgin olive oil.

Sesame oil.
Instructions
Cut the melon into thin slices using a sharp knife and cutting board. The slices should be 1-2 inches thick.

Remove the skin and seeds from the melon slices.

Cut each melon slice into small, bite-sized squares.

Slice the Serrano ham into thin pieces (About 2 slices per piece)

Arrange the melon squares and ham-on-top slices on a plate.

Use a toothpick to prick each piece of melon and ham together into bite-sized portions.

Drizzle with olive oil before serving.
Notes
It is best to prepare these at the last minute because the melon can waterlog the ham making for a soggy appetizer.

Use ripe, flavorful melon – Cantaloupe, honeydew or Galia melons work well. The melon should be fully ripe and sweet.

Prepare at the last minute – It is best to assemble the dish just a couple of minutes or even seconds before serving

to prevent soggy ham from melon juices.

Chill the ingredients and serving plates – Serving the melon con jamon cold highlights the contrast between the melon sweetness and ham saltiness.