Toledo Carcamusas is known by its diverse ingredients along with signature smoky aroma from chorizo. It typically includes a base of lean pork, which are stewed until tender with spicy broth mixture.
Ingredients
800g pork (lean would be the best option)
400g tomato
1 onion
2 cloves of garlic
laurel
1 chilli
75g peas (both frozen and casual is allowed)
150gr chorizo
150gr ham
175ml white wine
400ml meat broth
salt and pepper
olive oil
a bay leaf
Making Carcamusas – Spanish Chili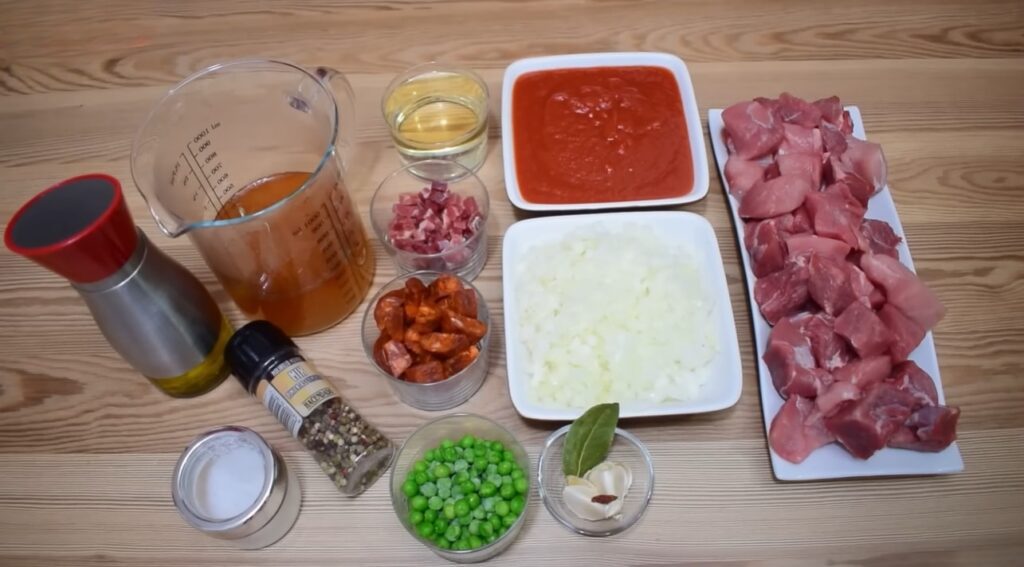 Before begin our cooking journey, make sure to prep a bowl of crushed tomatoes and have all your ingredients ready in several bowls. This helps avoid the chaos when cooking. It keeps the cooking process focused and prevents any unwanted issues.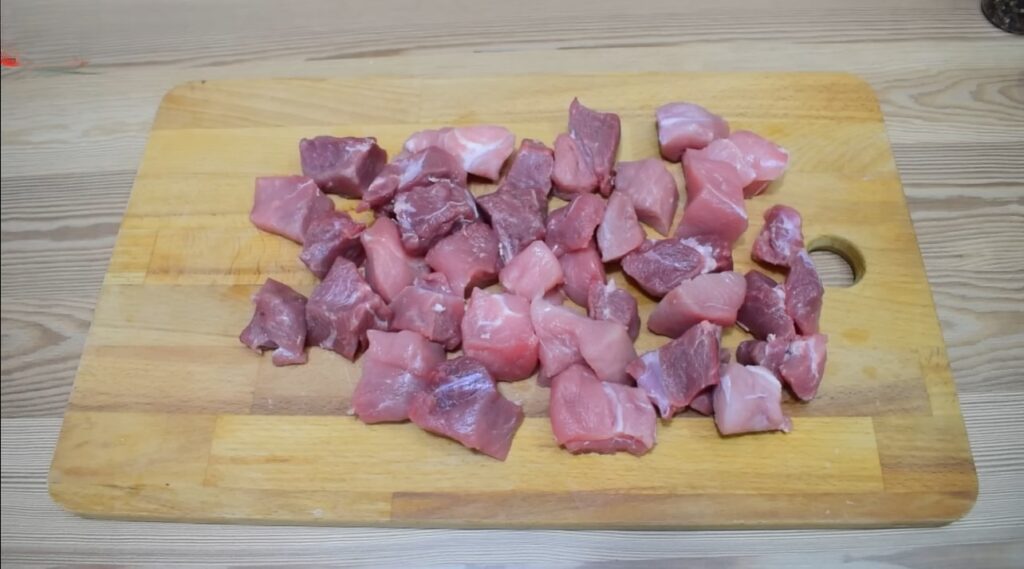 First of all is the beautiful lean meat. Here, I'm cutting it into square pieces that are just the right size for any stew dishes. This ensures the meat retains its sweetness after cooking and makes each piece juicier when tasting this yummy tapas dish.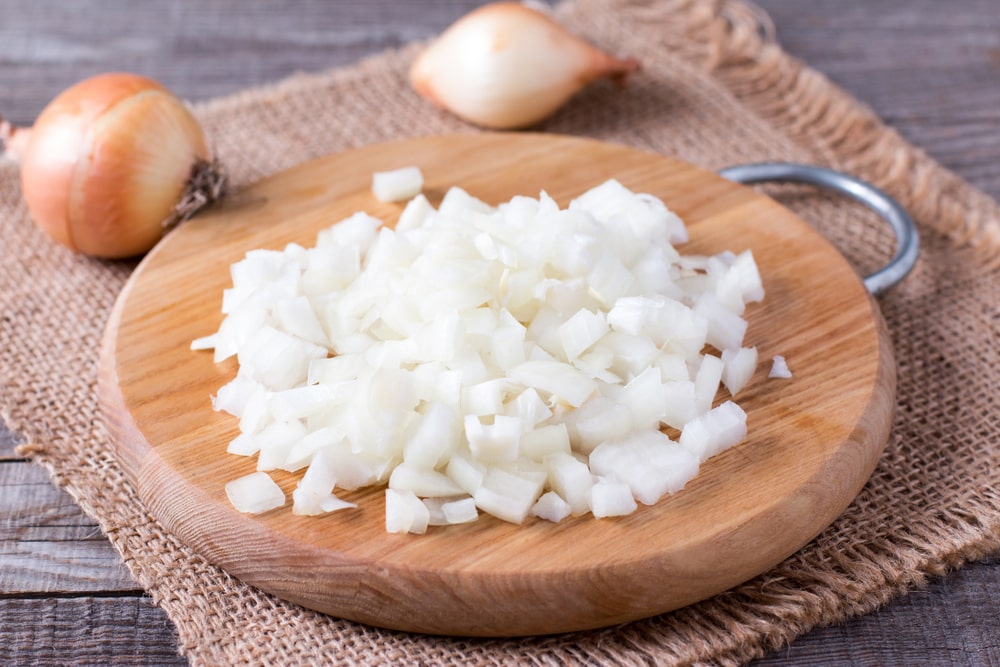 As for the onions, I'll chop them into small dice to complement the stewed dishes perfectly.
One more thing, make sure to trim off all the excess fat from the meat. Since this is a stew dish with onions, leaving the fat on during simmering might make it a bit too fat and some kind of heavy. This is just my personal take on it. If you want that heavy creaminess you can leave it intact
To ensure the star of the dish, in this case, these high-quality lean meat pieces, I personally would marinate the meat briefly before cooking. Just add some salt and pepper to ensure the aroma and flavor of the meat become distinct in the dish, not to be overcrowded by tomatoes or onion. Oh, and remember to season both sides evenly.
Add some chili to the oil and give it a gentle stir (Adjust the chili amount based on your spice preference; this 100% depend on your own taste, increase the amount if you are fan of spicy). After a quick fry for about 1-2 minutes, take the chili pieces out before moving on to flipping the meat.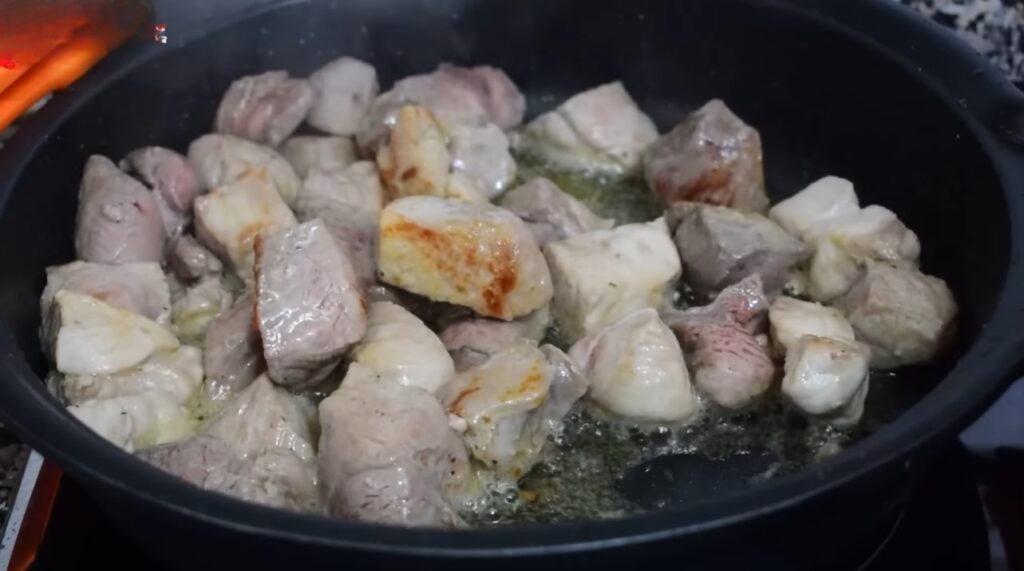 Turn to medium heat and let's start cooking that meat, amigos. Since we've pre-square-cut it, overcooking can make the meat tough, leading to an awful experience when ẹnoy the dish. So, flip the meat evenly on that hot pan, keep the heat at a moderate level, and watch both sides to ensure the pieces maintain their juicy goodness.
When those meat pieces turn a golden brown pattern, you know these juicy bits are perfectly cooked. Set them aside on a separate plate for later use.
Here's an additional tip from Chef Dani Garcia myself. The goodness of the every cuisine lies in the broth and fat derived from the key ingredients (in this case, those premium lean meat pieces) after searing them in olive oil. Make sure to make full use of that flavorful meat broth that flows out when cooking in the olive oil with its specific richness and sweetness.
Sauté the onions in the olive oil and meat fat mixture from earlier, reduce the heat to low to allow the onions to soften and become tender. Stir for 2-3 minutes, then add the prepared garlic and bay leaf.
Some side information on bay leaves: this is an ingredient you should have when cooking any meat stew. The bay leaf contributes a distinct aroma to any stew, almost like you're enjoying a meal in a hill mood, i dont know exactly why but I keep feeling it when using bay leaf. It's precisely this unique scent that helps balance out the richness of the meat in the dish.
Once the onions have taken on a slight golden hue, and the bay leaf and garlic have released their aromatic fragrance, now it is turn for traditional Spanish ingredients – chopped Spanish Chorizo, featuring that distinctive smokiness from the paprika infused within. Evenly stir them pieces in 5 minutes.
Now that the onions have fully caramelized, and the chorizo has tightened up as its fat has blended with the onions during the stirring process, it's time to add those juicy meat pieces back into the mix.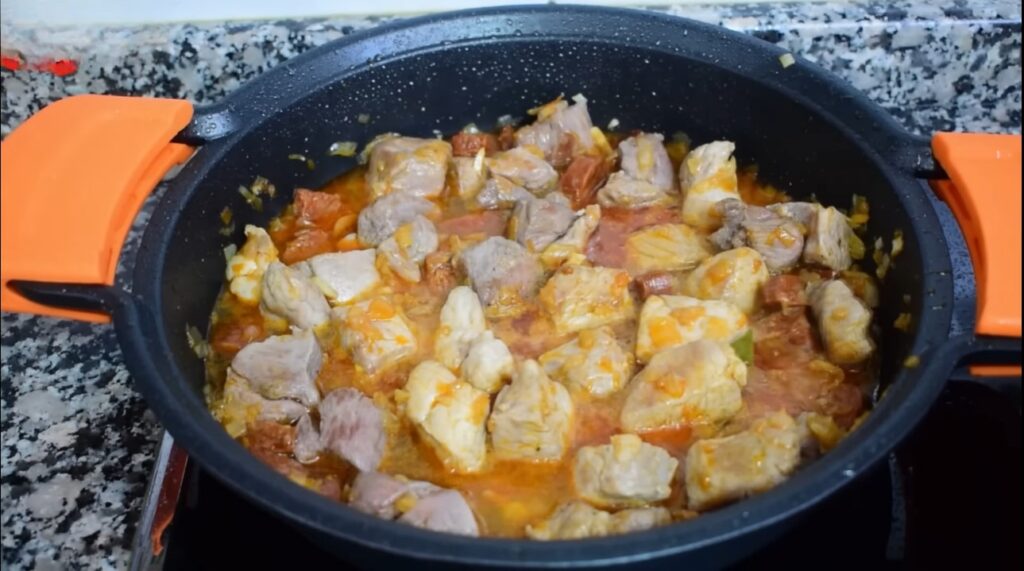 Stir for 3-5 minutes to let the meat fully absorb the fat and sweetness from the mixture and chorizo especially. Then, pouring white wine to approximately ⅔ the height of the mixture.
During the simmering time, make sure the bottom of the pot doesn't stick. Continuously scrape the bottom of the pot with your cooking stuff. In my case, I use a wooden spoon.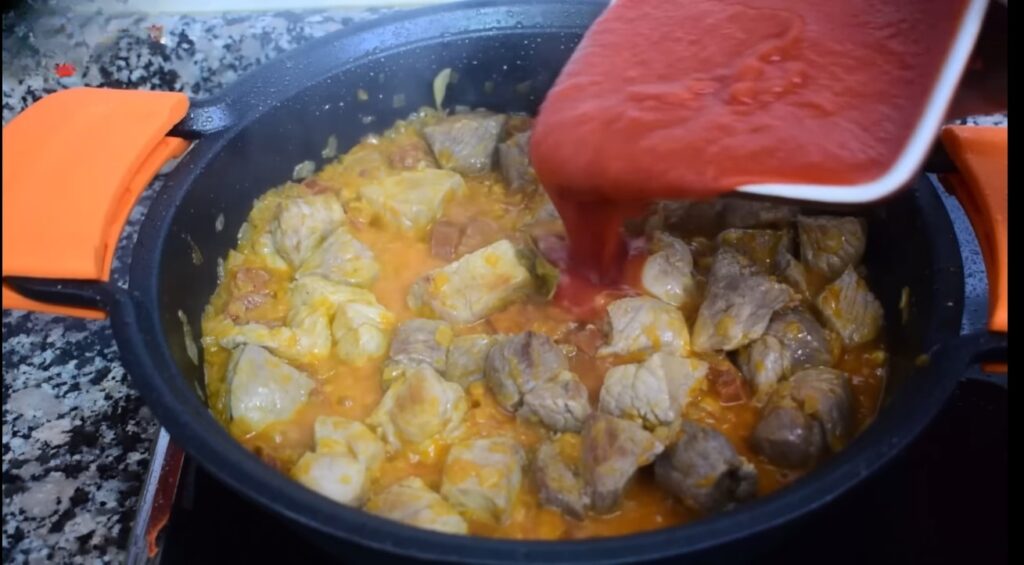 Stew on high heat until the alcohol evaporates. The next step would be pouring in the pre-prepared crushed tomatoes, and there you have it – your Spanish chili dish is just one step more actually, pretty easy until this step hah.
Once the tomatoes have thickened, losing some of its liquid, it's time to add the finely chopped ham. Simmer these mini ham pieces around 1-2 minutes; we want to keep the ham crispy, not friable.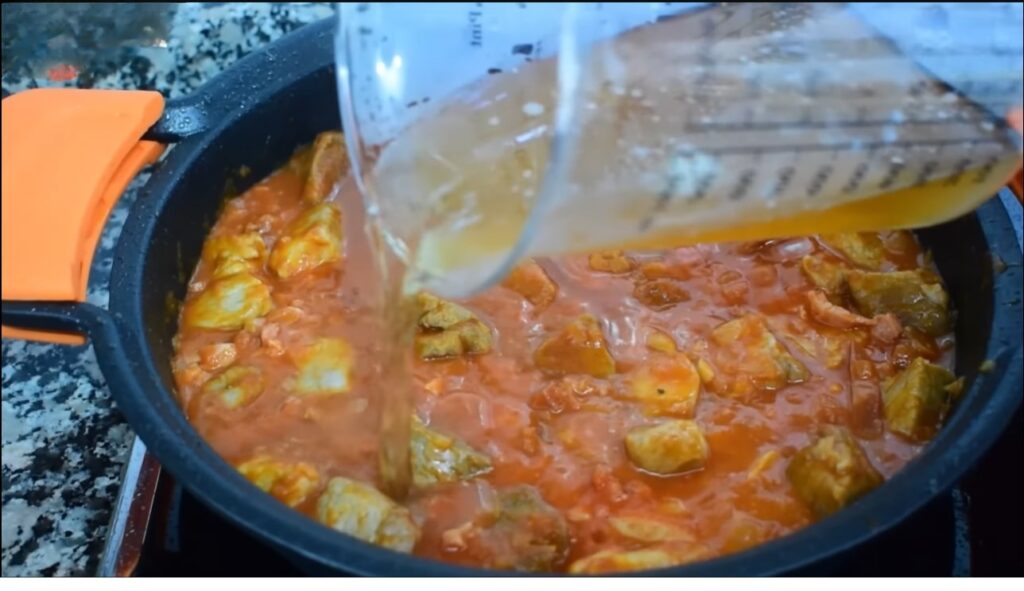 Finally, add in the pre-prepared meat broth, around 350ml or so, ensuring a natural sweetness for the dish instead of MSG or seasonings. Set to medium heat and cook until the meat broth comes to a boil. Continue simmering at that heat to ensure all the ingredients are thoroughly cooked and blended.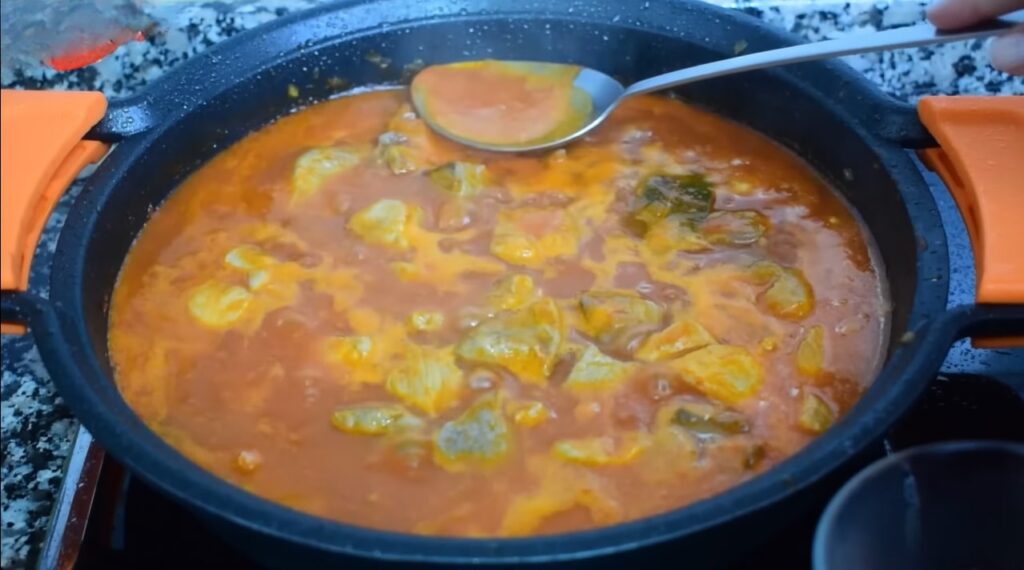 Remove any scum from tomatoes and meat fat that rise to the surface during the boiling process to ensure an eye-catching and delicious dish before serving.
Boil the mixture until the meat is tender and suits your family's taste. Personally, I prefer the meat to be extremely soft, so I'll simmer for about 60 minutes. An useful fact, during the meat simmering process, the liquid may reduce, be sure adding meat broth if needed (or water in case you have run out of broth) to ensure there's enough for the family.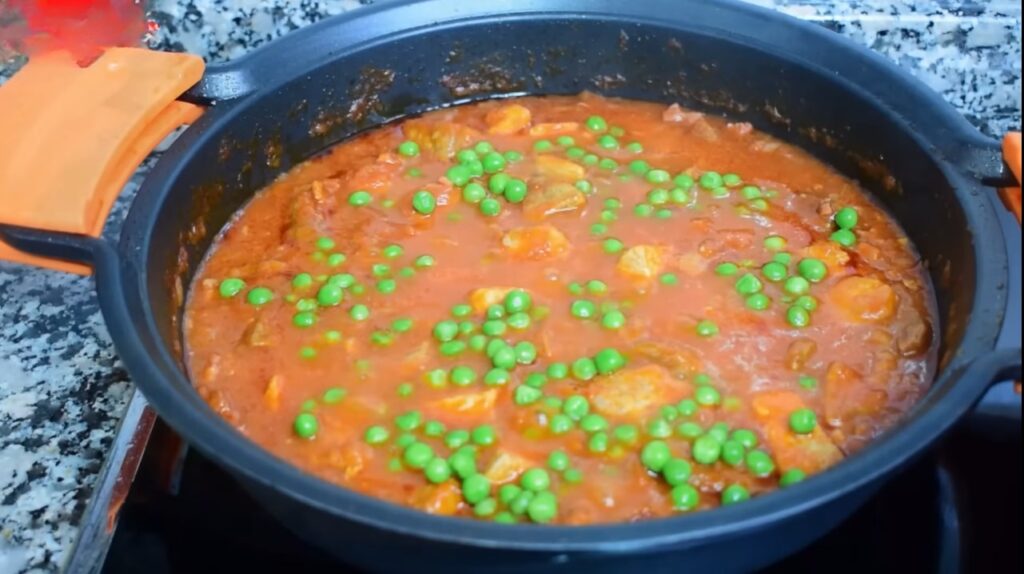 To balance the flavors and aesthetics of the stew in some aspect, I'll use green peas. Adding some green veggies not only lightens up the dish but is also fantastic for your health. I highly recommend it. If you don't have peas, you can substitute them with carrots, which is also a great choice alongside green peas.
Carcamusas Side-Story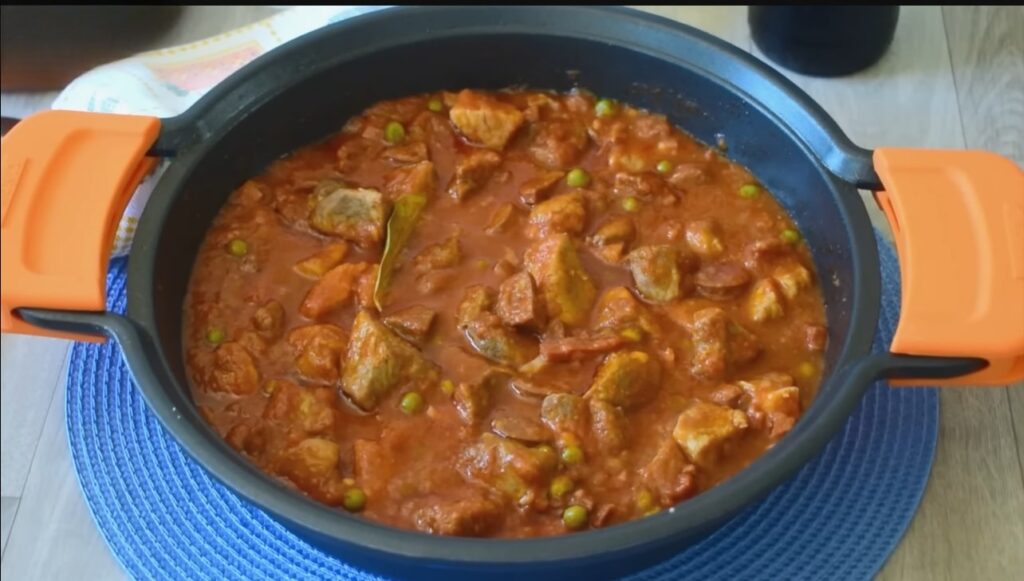 The dish "Carcamusas" has its origins in the city of Toledo, which is located in the Castilla-La Mancha region of my beautiful Spain. This hearty and flavorful stew reflects the culinary heritage of the area and is considered a traditional specialty of Toledo: The spiciness of chili, the smoky aroma in most of the food.
This dish promised to be unforgettable experience when exploring thí city, especially at those bars serving tapas, which i believe most of all. Grab a cocktail, sipping on some fries, or a slice of bread with carcamusas – it's an extreme eating experience you won't ever forget.
Try out some more tapas we got on Manzanilla, feel free to comment and chef Dani would support you to make the most fulfilled dish: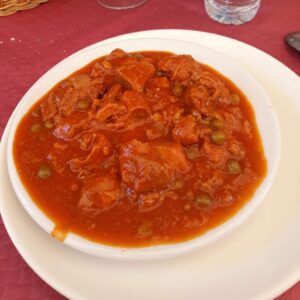 Carcamusas – Toledo Spanish Chili
Carcamusa – Spanish Chili stew with dynamic flavor from slowly simmered premium lean, Spanish chorizo, sweet caramelized onions, and zesty tomatoes with signature smoky aroma along with bay leaf.
Equipment
Cutting board and knife

Slow Cooker

Pan

Wooden spoon

Basic Kitchen Stuffs

Measuring cups
Ingredients
800

g

pork

lean would be the best option

400

g

tomato

1

onion

2

cloves

of garlic

laurel

1

chilli

75

g

peas

both frozen and casual is allowed

150

gr

chorizo

150

gr

ham

175

ml

white wine

400

ml

meat broth

salt and pepper

olive oil

a bay leaf
Instructions
Prep crushed tomatoes and pre-cut meat into squares. Keep ingredients in separate bowls.

Trim excess fat from meat.

Marinate briefly with salt and pepper.

Fry chili slices in olive oil. Remove after 1-2 mins.

Cook meat pieces in olive oil on medium heat until browned

Sauté onions in meat fat from lean pieces until soft.

Add garlic and bay leaf.

Add chorizo and stir for 5 mins.

Return meat to pan. Stir for 3-5 mins.

Add white wine, simmer until alcohol evaporates.

Add crushed tomatoes, simmer until thickened.

Add chopped ham, simmer 1-2 mins.

Add meat broth, simmer until meat is very tender.

Add peas or carrots
Notes
Trim fat from meat to prevent heaviness

Marinate meat briefly to boost flavor

Add meat broth for natural sweetness, not MSG

Add peas or carrots to balance flavor and lighten dish

Adjust seasoning throughout cooking process