Using the breeze food dehydrator to dry apricots is a great way to extend the season's flavor all year. You can make delicious, sweet, and chewy dried apricots by dehydrating them. These are the ideal snack to take in school lunch containers, carry around in your handbag, or keep in a desk drawer. Additionally, handmade dehydrated apricots taste great in muffins, yogurt, homemade cereal, muesli bars, and other baked goods.
Preservatives are applied to commercially available dried apricots to preserve their beauty and softness. These fruits are distinguished by their vivid orange color and suppleness. Natural apricots lose their vibrant orange color without sulfates when moisture is drawn from the fruit. Let's dive into DIY how to dehydrate apricots within your home now!
Why Self drying apricots in dehydrator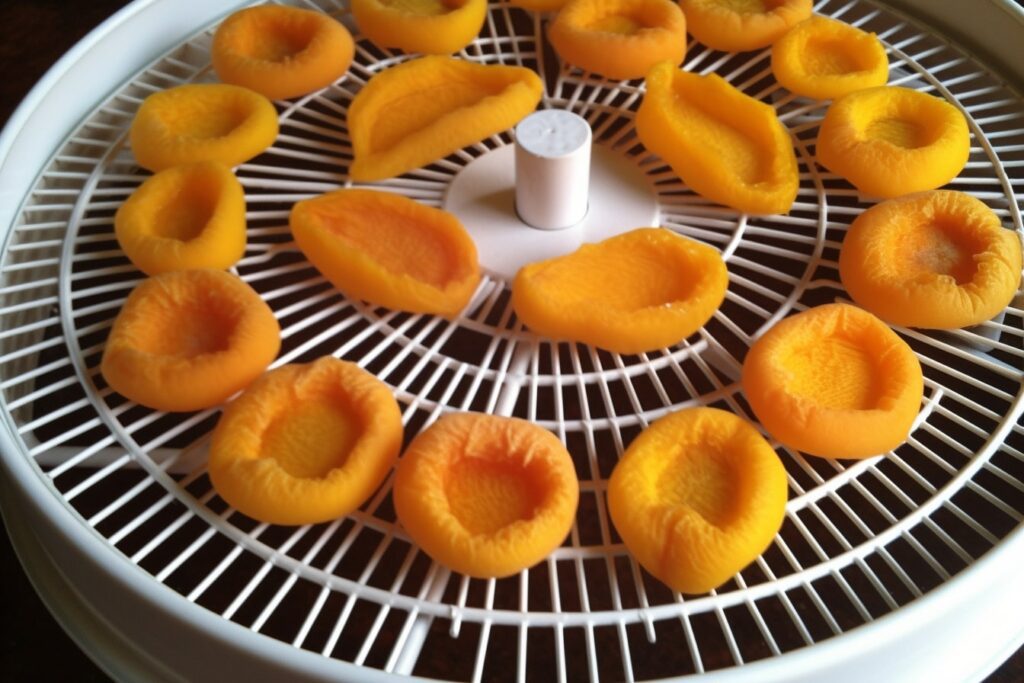 Do you like apricots? Imagine savoring their intense taste and natural sweetness all year long. You're in luck, then!
You may preserve these exquisite fruits, increase their shelf life, and enjoy their delectableness whenever you want by drying your apricots in a dehydrator or may known as dehydration food preservation process. Let's explore why drying apricots in a dehydrator is a great idea.
Concentrated Flavor: Have you ever wondered why dried apricots taste so flavorful? It's because drying brings out their inherent sweetness and improves their flavor. The apricots' tastes intensify as their water level decreases, creating a wonderful burst of apricot sweetness. This rich apricot flavor will enhance your culinary explorations by adding fruity delight to various dishes and snacks.
Extended Shelf Life: Although fresh apricots are a seasonal treat, their shelf life is short. However, removing the moisture from apricots before drying them in a dehydrator prevents deterioration and extends their shelf life by many months. This implies that you may still enjoy apricots even when they are out of season or hard to get.
Cost Savings: Now, discuss the cost savings associated with self-drying apricots. Pre-packaged dried apricots from the grocery store can occasionally be pricey, particularly if they come in upscale packaging or have extra preservatives. However, you can save money using a dehydrator. You may buy fresh apricots at a reduced cost and dry them yourself when they are in season or on sale.
Control Sugar Content: Do you pay attention to how much sugar you consume? If so, self-drying apricots are a fantastic remedy. You frequently discover hidden sugars in the ingredients list when purchasing professionally produced dried fruit. However, you have complete control over the sugar amount if you dry your apricots. You can completely omit the extra sweets and savor the fruit's inherent sweetness instead.
Step-By-Step How To Dehydrate Apricots In Dehydrator
Are you prepared to set off on a tasty apricot drying journey? Let's begin straight away! I'll guide you through the procedure using my expertise as a guide, offering tips and advice along the way.
First things first: time is everything when it comes to drying apricots. According to my observations, choosing or purchasing apricots is ideal when they are totally ripe but firm. They have their most delicious flavor without being too mushy to dehydrate adequately. Remember that apricots ripen from the center; they can easily become overripe and even ferment around the seed in warm temperatures.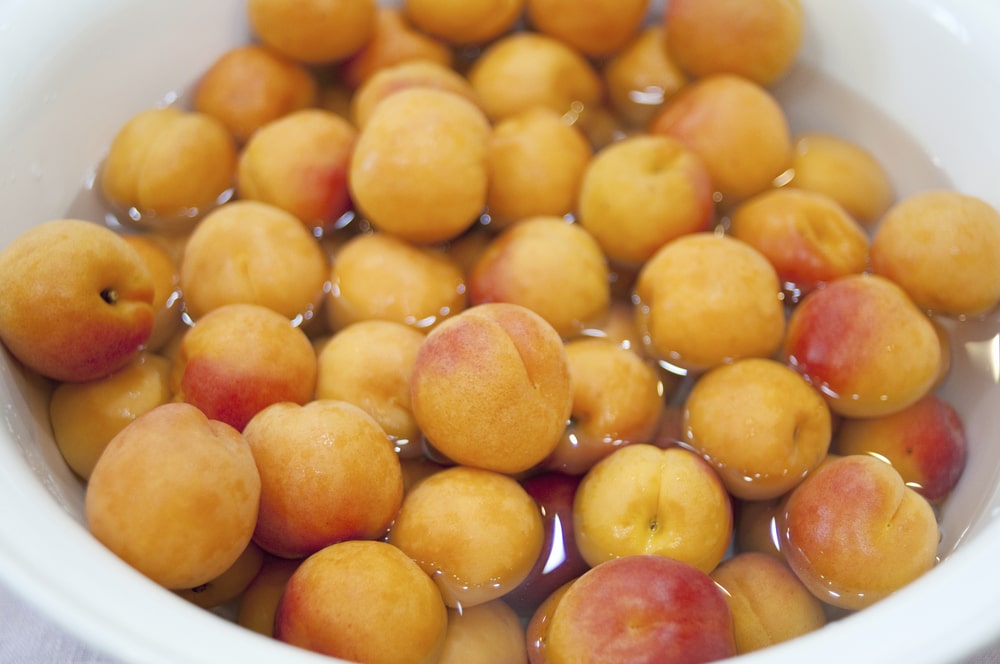 Let's check that we are using the fruit of the highest caliber right now. Before beginning the drying process, throw away any rotting apricots. We aim to keep apricots healthy and fresh for as long as possible.
Give your apricots a gentle wash in lukewarm water before you start. This aids in cleaning off any dirt or contaminants. Avoid washing them too far in advance, though. Water may penetrate the core and start decaying from the inside, as I've learned. That's what we want to prevent!
After cleaning your apricots, give them some time to dry completely. It's a vital stage to guarantee the best outcomes. You may skip this step if you want to use a pre-treatment (I'll explain what one is in step 8).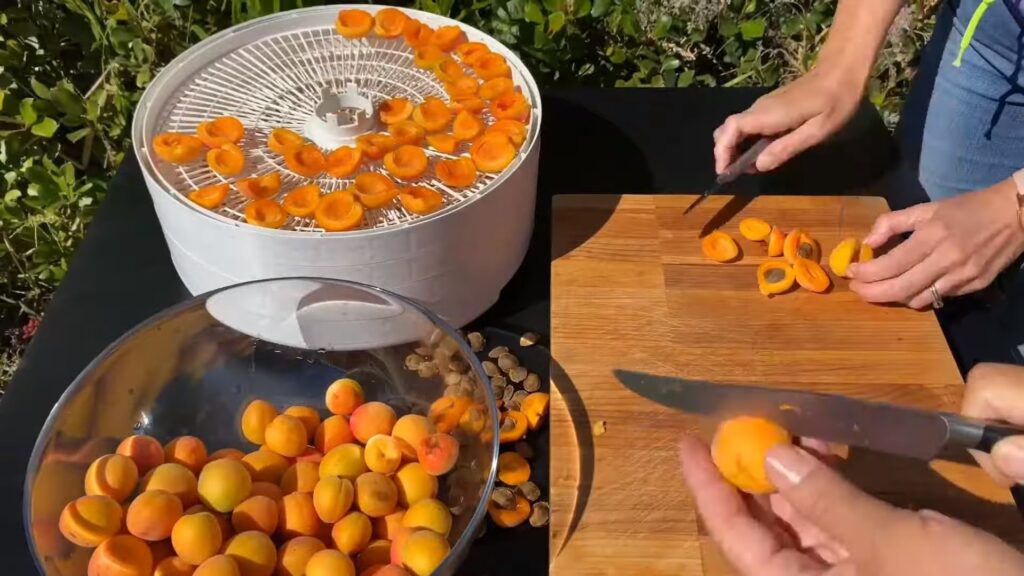 It is now time to get the apricots ready for drying. I advise cutting them along the seam and using your fingers to divide them in two. Surprisingly, if the apricots are ripe enough, you can even do this task without a knife by using just your thumbs. What's best? Apricots' skin contributes to their overall texture and flavor, so you don't need to peel them.
Watch cautiously for any seriously harmed parts when you touch the apricots. Removing these components is essential to guarantee that only the finest parts of the fruit are kept while drying.
I've discovered it's beneficial to chop bigger apricots into quarters. This process encourages uniform drying and enables better monitoring of the process.
I advise doing a pre-treatment to keep your dehydrated apricots from becoming black during storage if you won't be eating them within 2-3 months.
In my tests, I've found that a mixture of 1 cup of fresh lemon juice and around 1 liter of water is effective.
In a large basin, combine water and lemon juice, add the apricots, and let them soak in the sour mixture for five minutes. After that, take the apricots out of the dish and shake as much juice as you can off of them.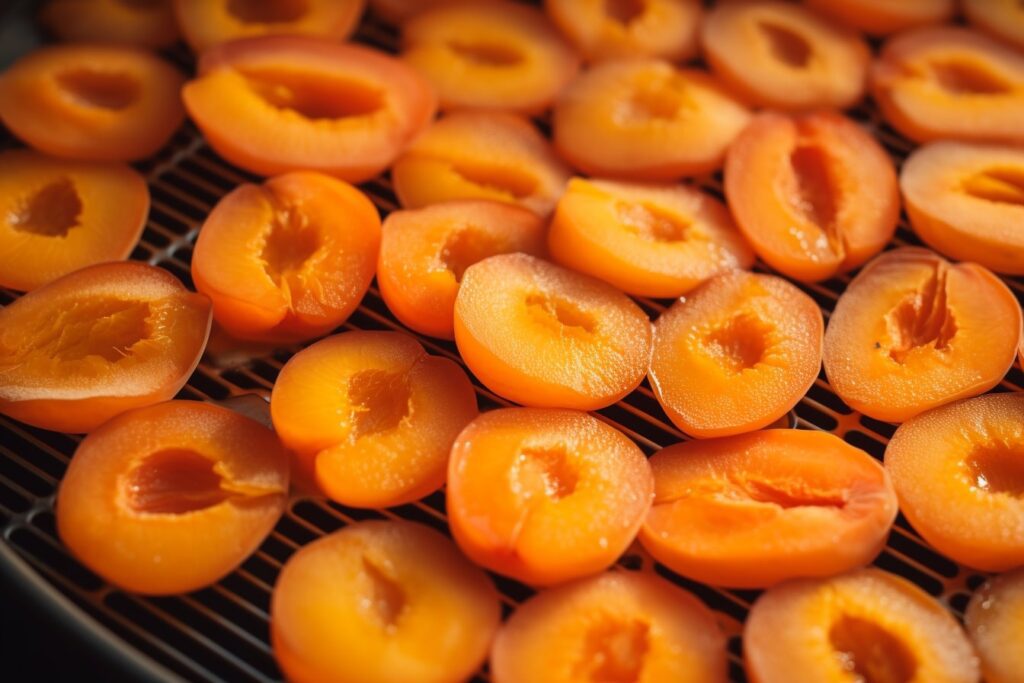 The apricots should now be arranged on the dehydrator trays. I advise setting them down with the cut side up. Grouping like-sized apricots on the same tray improves consistent drying and streamlines the procedure if you have larger and smaller apricots.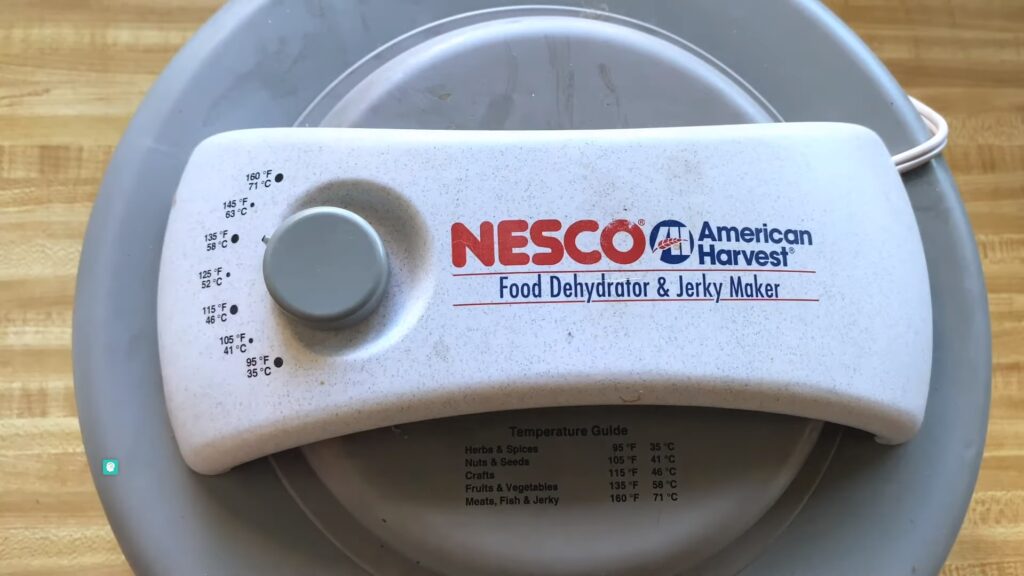 Let's now modify the dehydrator's temperature to 58°C (135°F) and the timing to 12 hours for the first check-in. But bear in mind that drying times might differ greatly. Apricots might take up to 24 hours or more to completely dry, depending on their size, thickness, and air humidity. Additionally, it normally takes a little longer for pre-treated apricots to dry.
After 12 hours, I recommend taking each apricot half and gently pressing it with your thumb. This little trick turns the fruit partially inside out, exposing the moist center to the air and accelerating the drying process. It's like giving them a helping hand!
Set the timer for another 6 hours and check on the apricots again. We're getting closer to the finish line!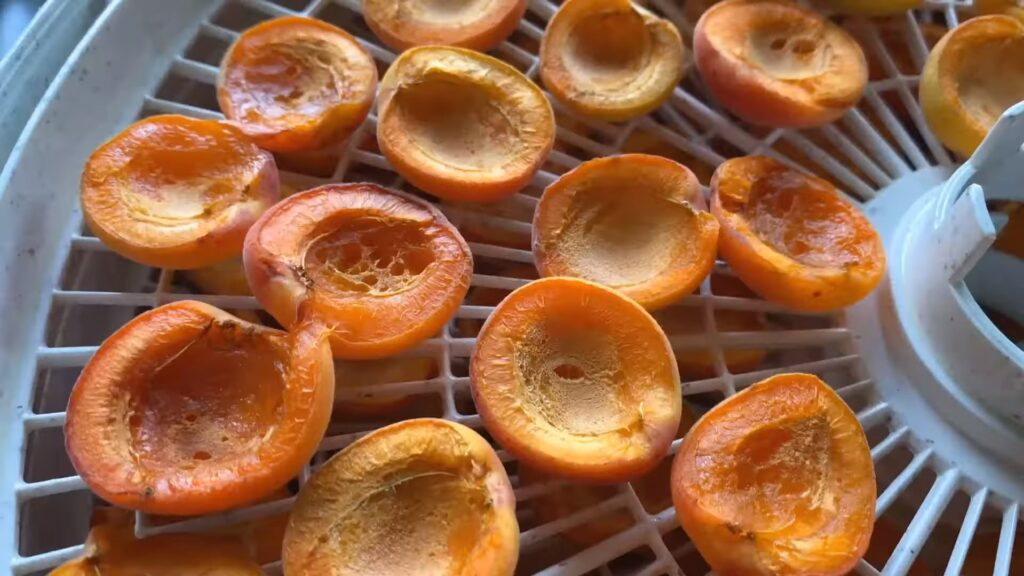 Initially, the apricots may feel sticky, but fear not! As the water content diminishes, they will gradually firm up. Keep an eye out for bright orange patches, as they indicate the fruit is not yet fully dried. Patience is key!
Once the drying process is complete, allow the dried apricots to cool completely before testing for moisture. When fully cooled, they should be soft, leathery, and pliable, with no juice if cut or squeezed.
However, due to the thickness of apricots, it can be challenging to determine their dryness accurately. If you plan to store them long-term, slightly over-drying or condition them before storage. And remember, remove any pieces that are still moist.
Last but not least, let the apricots cool fully before putting them in storage. Store your dehydrated apricots in airtight containers, or consider vacuum sealing them to keep them fresh. They will be prepared to travel with you on many culinary trips if you store them in a cold, dark location.
How Long To Dehydrate Apricots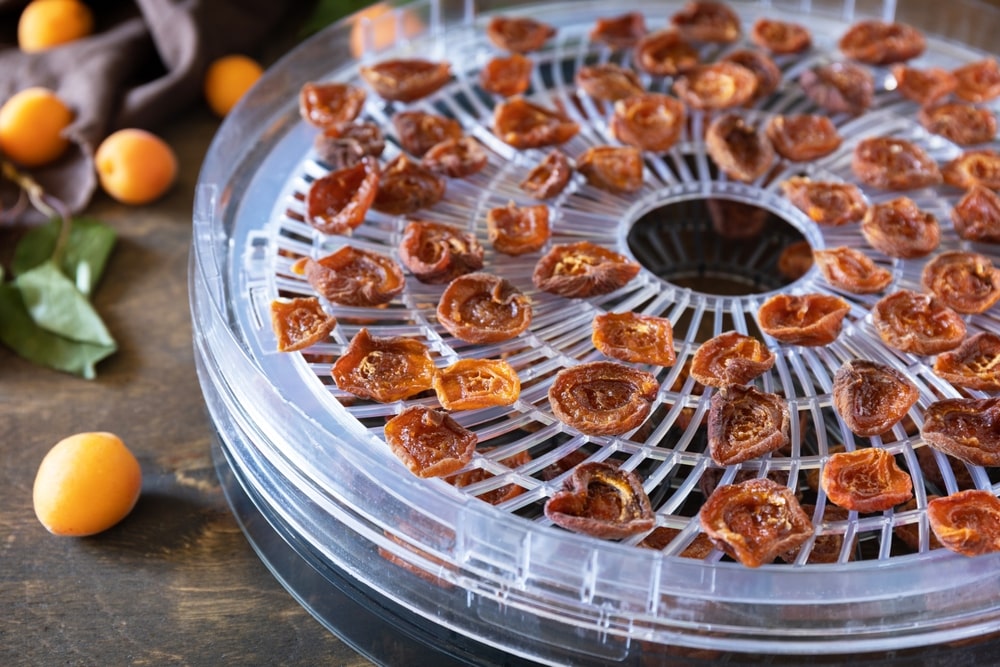 According to my observations, dehydrating apricots is a great and satisfying activity. Our team investigated several approaches to find the best strategy and experimented with various drying durations. I'm eager to share our findings with you after my testing.
Let's start by discussing the drying time. I suggest setting your dehydrator to a temperature of about 135°F (58°C) based on my experience. It constantly produces excellent results, assuring taste preservation and effective drying. However, for detailed instructions designed specifically for your equipment, refer to the user manual for your dehydrator.
On to the duration now. I've found that it often takes apricots between 8 and 24 hours to dehydrate completely. However, it's crucial to remember that the timing might change depending on several things. Fruit ripeness, dehydrator settings, and even local humidity levels can affect how well fruit dries.
How can you determine if your dried apricots are just that way? Here's a tip I picked up: just touch them lightly. You will know they are ready when they are no longer juicy to the touch. When you cut into a dried apricot, there shouldn't be any juice pouring out; the texture should be malleable. That's the area you want to focus on!
I've discovered a frequent error that many people make when dehydrating apricots throughout my research. It's critical to leave adequate room between the fruit slices on the dehydrator trays. This promotes appropriate airflow and guarantees uniform drying. The apricots may not dry even if arranged too closely together, which might lead to an uneven texture and flavor. So, remember that!
Finally, I want to highlight how important your apricots' quality is. Fresh, ripe, and juicy apricots, in my experience, will take a little longer to dehydrate than slightly dryer ones. So, be patient and keep a careful eye on the drying process. It will be worthwhile when you receive wonderfully dried apricots!
Storing Your Dehydrated Apricot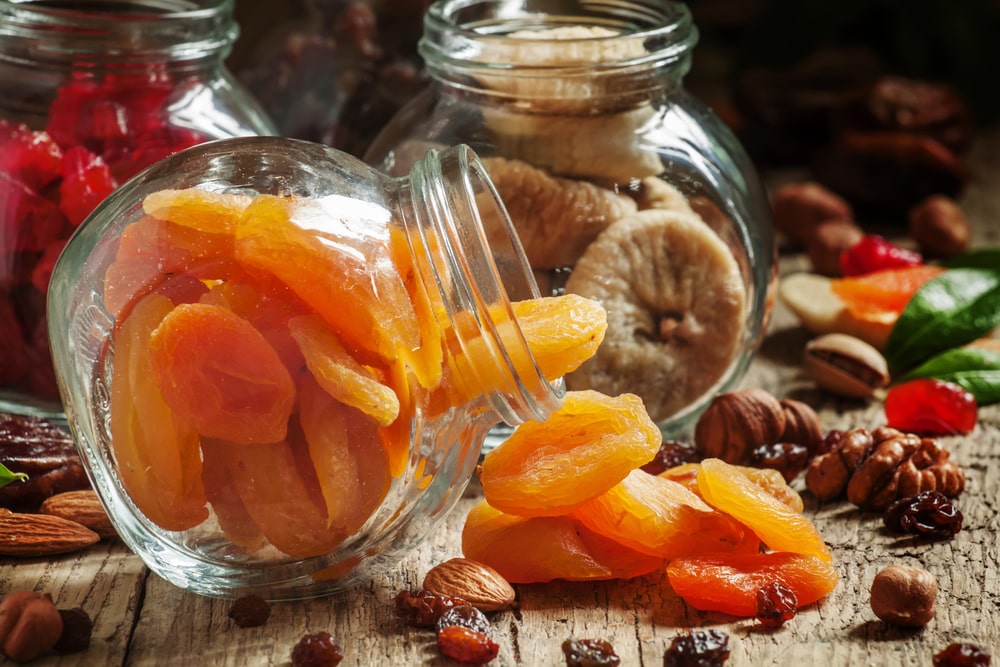 I can't wait to share some of my experiences and tips on storing dehydrated apricots. Trust me, I've had my fair trial and error and am excited to pass on what I've learned. So, let's dive right in!
After dehydrating a batch of apricots, it's important to let them cool completely before storing them. From my experience, I've found that rushing this step can lead to moisture buildup and, ultimately, mold formation. We don't want that to happen, right? So, be patient and give your apricots some time to cool down naturally.
I've looked into many techniques for long-term storage, and this is what I discovered: keeping your dehydrated apricots in an open container overnight with a loose top works beautifully. Your apricots will stay completely dry thanks to this opening for any moisture that may still be present. After testing, I discovered that allowing my dried apricots to chill overnight before sealing them up significantly enhances their general quality and shelf life.
Another crucial step is labeling the containers. I must emphasize this! You can easily maintain track of the freshness of your apricots by noting the date of drying or expiry. Believe me, using the oldest batches first will help avoid confusion and save time. After all, we want those apricots to be remembered and used at the back of the pantry!
Let's now discuss where to put your dehydrated apricots in the ideal location. My own research has led me to conclude that the ideal environment is cold, dry, and dark. Humidity, direct sunshine, and temperature changes might harm your prized dried apricots' flavor and texture.
One crucial point: even if you faithfully follow all of these instructions in my how to dehydrate apricots guide, it's always a good idea to frequently inspect your containers for any indications of moisture or mold. After all, prevention is preferable to treatment. You may prevent problems from occurring and guarantee that your dehydrated apricots stay in excellent shape by exercising caution.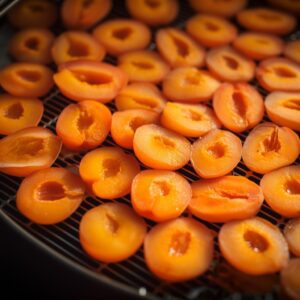 Drying Apricots In Dehydrator Recipe
Delicious, Sweet and Chewy Dehydrated Apricots Ready-to-use All Year Around
Equipment
Dehydrator

Basic Kitchen Stuffs
Instructions
Preparing Apricots
Choose ripe and firm apricots.

Discard any rotting apricots.

Gently wash apricots in lukewarm water.

Allow apricots to dry completely.

Cut apricots along the seam and remove any damaged parts.

Chop larger apricots into quarters for uniform drying.

Soak apricots in the lemon juice mixture for five minutes.
Dehydrating
Arrange apricots on dehydrator trays with cut side up.

Set the dehydrator temperature to 60°C (140°F) and timer to 12 hours.

After 12 hours, press each apricot half with your thumb.

Look for bright orange patches indicating the apricots are not fully dried.

Store dried apricots in airtight containers or vacuum seal them.

Consider over-drying or conditioning for long-term storage.

Remove any pieces that are still moist.

Store dried apricots in a cold, dark location.
Notes
Choose ripe and firm apricots: Select fully ripe but firm apricots. Avoid overly ripe or mushy apricots, as they may not dehydrate properly.
Discard rotting apricots: Before starting the drying process, inspect the apricots and discard any that are rotten or spoiled. It's important to work with fresh and healthy fruit.
Gently wash apricots: Give the apricots a gentle wash in lukewarm water to remove any dirt or contaminants. However, avoid washing them too far in advance, as water can penetrate the core and cause decay from the inside.
Allow apricots to dry completely: After washing, allow the apricots to dry completely before proceeding. This step is crucial to ensure optimal drying results.
Cut apricots along the seam: Using a knife or your fingers cut them along the natural seam and divide them in two. The skin of the apricots contributes to their texture and flavor, so there's no need to peel them.
Remove damaged parts: Inspect the apricots for any seriously damaged areas and remove them. This step ensures that only the best parts of the fruit are kept during the drying process.